The Catalan language: the soul of Catalonia
If you wonder where and when it came from, how many people speak it, and where you can learn it, then read on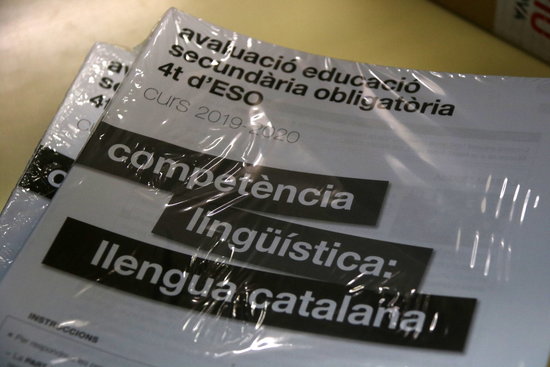 This article is the first in our series of the Catalan lanaguage celebrating International Mother Language Day. You can find the second, on Catalan idioms, here. You can find the third, on people's experiences learning Catalan as a foreign language, here.
Whether it is its mountain landscapes or its beaches, its famous heritage sites or its art museums, its cuisine or its sporting champions, Catalonia boasts a great many assets. Yet, one of its richest and most fascinating assets is intangible: its language.
You don't have to spend too long in Catalonia to realize there is something unusual about it that marks it out from many places in the world. Whether it is street signs or restaurant menus, passers-by or TV hosts, here there are two languages at work.
For most visitors, and even some residents, the Catalan language is a curiosity with something of the esoteric about it that poses a serious challenge to non-speakers, even those who are interested in becoming proficient at speaking it.
Yet, the importance of the Catalan language for Catalonia's history, society and culture cannot be underestimated. If countries and cultures had a soul, then the Catalan language would qualify as the best candidate to be the soul of Catalonia.
So, what is the Catalan language all about? Where does it come from? Who speaks it? Where is it spoken? Where can you learn it? If those are the sort of questions in your mind, then you might find some of the answers to them below.
How is Catalan different from Spanish?
Catalan is a Western Romance language that grew out of the everyday Latin spoken during the Roman Empire. While Catalan is spoken mostly on the Iberian Peninsula, it has significant differences from Spanish in pronunciation, grammar and, above all, vocabulary.
In fact, Catalan is closer to languages native to France and northern Italy, particularly Occitan. Sometimes in the past, and especially during the Francoist dictatorship (1939–1975), Catalan was dismissed as a dialect of Spanish. Yet this view is based on political and ideological prejudice and has no linguistic validity.
How did Catalan become established?
Catalan had evolved by the 9th century, and as the Catalan counts expanded their territory north of the Ebre river by the 12th century, and conquered Valencia and the Balearic Islands in the 13th century, they brought their language with them.
In 1164, the County of Barcelona entered a union with the Kingdom of Aragon, and thereafter the history of the county became subsumed within that of the Crown of Aragon, with Barcelona one of its preeminent cities.
By the 15th century, the city of Valencia had become the sociocultural center of the Crown of Aragon, and Catalan was present all over the Mediterranean, including in the city of Alghero in Sardinia, which was resettled with Catalan speakers in the 14th century.
Where is Catalan spoken today?
Obviously all over Catalonia, but there are also a number of other places in Spain where Catalan is spoken. In the Community of Valencia the language is recognized as its own variety known as "Valencian", while it is also spoken in the Balearic Islands of Mallorca, Menorca, Ibiza and Formentera.
The language is also to be found in La Franja, part of Aragon on Catalonia's western border, as well as in El Carxe, a small area of Murcia that was settled in the 19th century. Outside Spain, Catalan is the only official language of Andorra, the small sovereign state in the eastern Pyrenees, while it is also spoken in the Northern Catalonia area of France, which roughly corresponds to the département of Pyrénées-Orientales, where since 2007 it has been officially recognized.
The language also has official status in Alghero, a town of about 45,000 inhabitants in northwestern Sardinia. All of these territories where the Catalan language, or a variant, is spoken are known collectively as the Catalan Countries (Països Catalans).
How many people speak Catalan?
More than 10 million people speak Catalan, according to figures from 2018, which is about the same number of people who speak Swedish or Portuguese (in Europe). Yet, a distinction is made between those Catalan speakers who habitually use the language (68%) and all of those who understand it (91%).
The same figures say that between 2003 and 2013, the number of people over 15 who use Catalan as an everyday language fell by 300,000. Yet, the figures also show that the percentage of young people (from 15 to 29) using Catalan went up by 5% between 2008 and 2013.
Is Catalan the official language of Catalonia?
Catalonia has two official languages: Catalan and Spanish, which means that all official communication, such as road signs, has to be available in both. Similarly, public sector workers, such as teachers or civil servants, have to show they have a level of Catalan and Spanish that allows them to perform their professional duties in either language.
Catalan is not one of the European Union's 11 official languages, but a number of agreements give anyone the right to address the European Commission, the Council of Ministers and the European Ombudsman in Catalan. Also, in 1990, the European Parliament resolved to include a Catalan version of EU texts and resolutions.
Is Catalan taught in schools?
Since the early 1980s, a linguistic "immersion" model has been officially in force, which means that Catalan must be used as the normal vehicular language in all places of public education. With some exceptions, Catalan is now used as the default tuition language in all schools and all teachers must have a sufficient level of Catalan to do their jobs. Having said that, teachers of non-linguistic subjects are free to use Spanish in class as they see fit.
Which institutions promote Catalan?
There are a number of institutions, both public and private, that promote the Catalan language and its role in culture and society. The Consorci per a la Normalització Lingüística (Consortium for Linguistic Standardisation, or CPNL in Catalan) is a public body set up in 1989 to foster the use of Catalan, while the Direcció General de Política Lingüística is the department charged with implementing and managing the Catalan government's linguistic policies.
Then there are also large cultural organizations, such as the Institut d'Estudis Catalans, the Plataforma per la Llengua, and Òmnium Cultural, among many other associations that also promote the language.
Where can I learn Catalan?
The Consortium for Linguistic Standardisation (CPNL) is the public body that promotes the language and one of its activities is organizing Catalan courses for adults all over Catalonia. Beginner's courses are free, and there are also discounts for certain groups for other levels. Meanwhile, Parla.cat is an online learning environment with a wide range of tools for learning Catalan at different levels. While access to the learning materials is free, you have to pay for the mode that also gives you access to a tutor.
The website also includes spaces, such as forums, for Catalan language students to interact. Catalonia's Official Language Schools (EOI) also teach modern languages to adults, including Catalan, and their qualifications are official certifications recognized throughout Spain. One interesting option for Catalan language students to practise is the Voluntariat per la llengua (VxL) program.
This pairs language learners with volunteers who speak Catalan fluently in order to practise conversation either in person or online. Begun in 2003, the program now boasts more than 135,000 language pairings.
Who are some famous people who speak Catalan?
Just about everyone who was born and/or grew up in Catalonia is bilingual in Catalan and Spanish, although which language each person chooses to use depends on such things as personal preference, family background, or the social situation. However, here are some living Catalans you may well have heard of:
Ferran Adrià, chef and owner of the former elBulli restaurant on the Costa Brava
Isabel Coixet, award-winning film director
Custo Dalmau, fashion designer and founder of the Custo Barcelona company
Pau Gasol, professional basketball player and six-time NBA All-Star
Pep Guardiola, Manchester City manager and former FC Barcelona player and coach
Marc Márquez, motorcycle racer and six-time MotoGP World Champion
Gerard Piqué, FC Barcelona player and husband of Colombian pop star Shakira
Rosalía, singer and Grammy Award winner
Albert Sánchez Piñol, author of the international best-seller Victus: Barcelona 1714
Arantxa Sánchez Vicario, tennis player and former world No. 1.