Dancing traditional sardanes to The Tyets' 'Coti x Coti' pop hit
400 students dance to band's latest sensation in front of Barcelona's Cathedral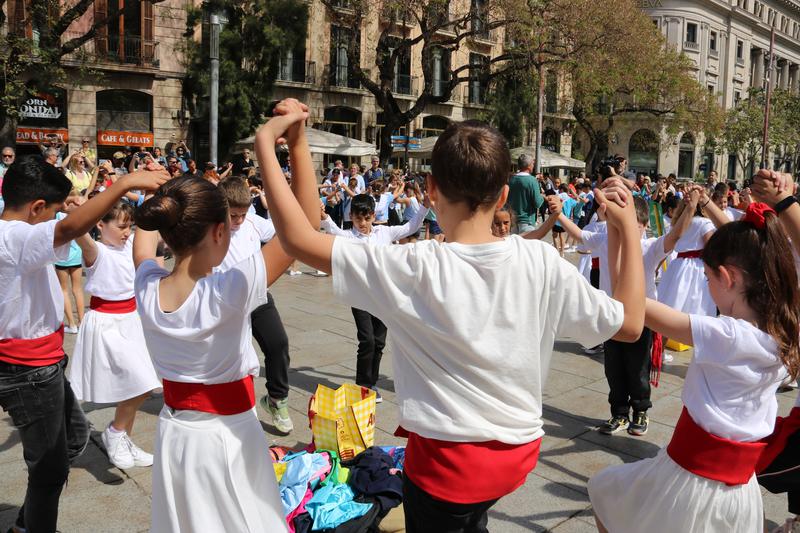 Many are still surprised when they see people dancing sardanes, Catalonia's traditional dance, but on Friday, over 400 students from Barcelona danced the sardana version of Catalan group The Tyets' latest hit, Coti x Coti.
Written by sardana composer Xavier Ventosa and inspired by the duo's pop sensation that mixes sardana music and reggaeton, the version of the song has been changed a little bit "to make it easier to dance, but the structure is almost entirely The Tyets' song," Ventosa said.
"The only changes are in some places with shorter and longer notes," he added.
The composer decided to readapt the song to sardanes after the hit had made its way through many nightclubs in Catalonia, which is "surreal" for Ventosa.
Successful songs like these are seen as a way of bringing sardanes to younger audiences, Catalonia's sardana confederation president, Xavier Treserras, argued.
Students, aged between 8 and 10, got together at the square in front of the Barcelona Cathedral as part of "El País a l'Escola' (Catalonia in school), a campaign to encourage sardana-dancing in schools.
The sardana is a traditional Catalan dance that mainly takes place in public squares by holding hands in a circle.