Catalonia's local markets: food, groceries, and personal ties
Over a hundred establishments across the territory unite vendors and customers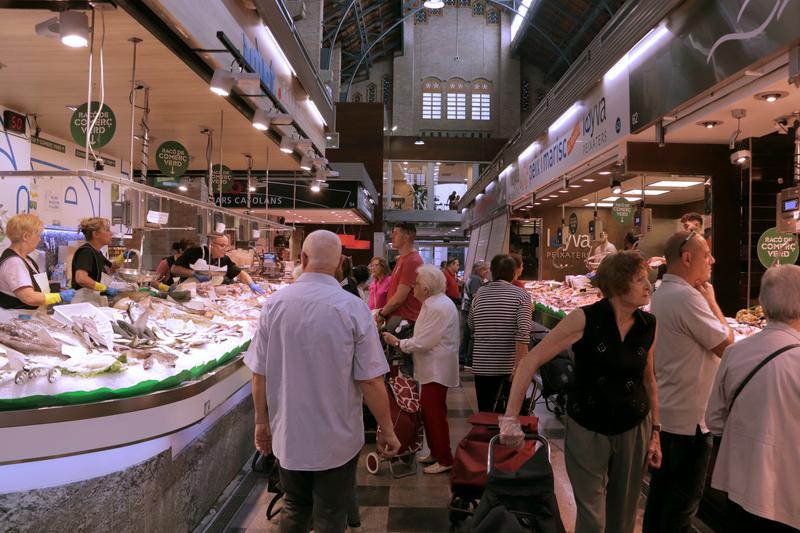 Fruits, vegetables, seafood, and lots of different kinds of meat are just some of the products we can find at local markets here in Catalonia. However, these are not the only things, as these establishments are well known for their community-building relationships.
There are 168 local markets across the territory, according to figures released in 2020 by the Catalan government.
Barcelona has the highest number of establishments (39), followed by cities neighboring the Catalan capital: L'Hospitalet de Llobregat (8), Badalona (6), and Sabadell (5).
One of these many markets is the one located at Carrer Sant Jordi, 6, in the Sants neighborhood. Opened in 1913, it continues to serve its community from Monday to Saturday.
Even if customers come daily, weekly, or even just once a month, vendors will ask about their families, how work is going, and all the questions you would expect from a friend or a family member.
Whether you want it or not, your local market becomes a part of who you are.
Even if the idea is to only look for the best possible product, during one's time there, one inevitably feels attached to the place in an irresistible way.
When going to the market, Catalans tend to buy "local fish and seafood from the Mediterranean," Alicia from Masip's fishmongers, says to Catalan News in front of big trays full of fish on ice.
"Fish that comes from Tarragona, Arenys de Mar, Blanes, and other seaside towns nearby. And then you've got seafood from Galicia, Galician skewers, turbot, a little bit of everything, especially mussels in season right now," she adds.
Alicia brings joy to everyone who walks in front of her. Here stall is bustling on a Tuesday at 11 am.
The same is true for Francesc, a butcher that has been part of Sants' market for the last 35 years.
"We have egg sausage, white sausage, and black sausage," he tells this media outlet before adding that "Catalan cheese, ham, and then meat, pork loin, pork chops…" are also on the menu.
Local products are what customers are most interested in. "Chicken, rabbit, all my products are from here," Nuria Solanas, from Nuria's Chickens, says before specifying that, "people ask about where the product comes from."
You can feel a real buzz as you wander around the market, just like in any other local market in Catalonia. As you check out products, vendors will happily welcome you and try to learn more about your tastes.
Getting to know your vendor will come with getting recipe recommendations, and even keeping product aside just for you if you ask politely.
Everything you may need
Going to the market is quite an adventure. You can find everything you may need, and even sometimes more than you could ever imagine.
"We have all sorts of olives. We don't have particular ones that sell more. There are many varieties and almost all of them sell well," Raul from Raul's olives and canned food, tells us.
He is speaking from the other side of the counter, where customers can choose from 27 different varieties of olives.
"We also have tinned tuna in bulk that people buy portions of, and now we sell some mixed skewers," he adds.
One of the other popular ingredients people can find at the market is cod. There are even shops that focus exclusively on this particular fish in its various forms.
And while markets are well known to locals, these places are also a source of surprising experiences for foreigners.
"We have some hotels and tourist apartments around here. Before visitors leave they come here to buy biscuits, saffron, red pepper," Lourdes, the boss at the market's pantry, happily says.
"Foreigners buy different things compared to locals, products that will survive the journey. But if they live in the neighborhood, they also buy local products. Things from their home too if they see them, but they get used to the Mediterranean diet," Lourdes explains.
For these visitors, going to the market is also an experience as Alicia, from Masip's fishmongers uses the translator on her phone to be able to communicate.
"We understand each other," she says before adding that "visitors like the atmosphere here. They tend to be surprised by seeing things alive and moving, like crabs, langoustines, especially the shellfish."
Shopping at the local market tends to take time as it is not about just taking what you need off the shelf. It becomes a routine, a tradition, a relationship that makes your local market part of your extended family.