Calçot-eating champion secures 12th title after devouring 3.135kg of traditional onions
Adrià Wegrzyn devoured 221 calçots in 45 minutes to regain title in Valls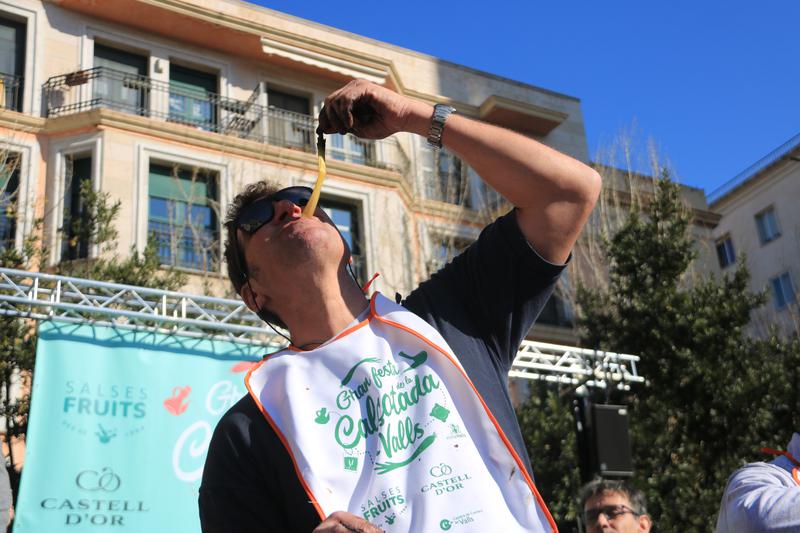 Adrià Wegrzyn remains the undisputed king of calçots.
On Sunday at the Gran Festa de la Calçotada in Valls, one of the biggest festivals in celebration of Catalonia's traditional barbecued long onion, the Barcelona native devoured 3.135kg of the vegetable to secure his 12th title in the calçot-eating competition.
Surrounded by a joyous post-pandemic atmosphere in the southern town of Valls, the calçot titan devoured 221 individual calçots on his way to regaining his crown.
More than 20,000 people enjoyed the calçot craziness in Valls throughout the day, with over 2,000 being fed the tender onions.
Yet it isn't only Wegrzyn's appetite that has returned after the health crisis. Calçot cultivators from Valls – the spiritual home of the calçot – expect to sell around two million this season, which usually lasts between January and March.
Additionally, restaurants expect to see bookings go up in the coming weeks.
History of a champion
Wegrzyn's record is eating 5.8 kg of onions in 45 minutes, achieved in 2018 while eating 310 long tender onions in a single sitting.
His record is so imperious that after five consecutive calçot-eating victories between 2010-2014, the competition had to change its rules, preventing winners from competing in the following year's tournament. Since then, Wegrzyn has had to be happy with only winning every second year.
Wegrzyn began his calçot-eating contest days in 2003 when his friend signed him up on a whim.
"He saw an article in the newspaper and they were advertising the Festa de la Calçotada in Valls," he recounts. "He knew I was a big eater so he signed both of us up. We went there after a night of partying in Barcelona after not sleeping to go have some fun." And of course, he won. A calçot-eating legend was born.
"A tip for winning?" the Barcelona native chuckled. "Many. Keep on going even if you are disgusted."
And yet, despite consuming copious amounts of onions, he says he has never gotten sick in his quest to eat more than anyone else.
"A calçot is fiber and water so the only danger in the contest is eating so fast that you have a stomach dilatation, but this has never happened," he said. "You have some gas, but it's ok."