Barcelona switches Christmas lights on
104 km of decorations consume 31% less electricity than in 2021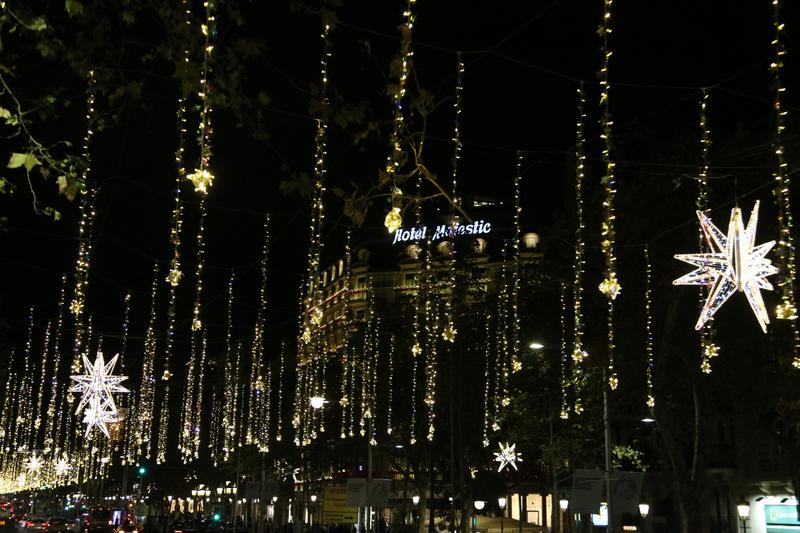 Barcelona switched on its Christmas lights on Thursday night. Covering 104 km of public roads throughout the city, the decorations officially kick off the holiday season in the Catalan capital.
The lights consume 31% less electricity than last year's due to the greater efficiency of LED installations, which will be turned on 42 hours less.
The city-wide circuit of lighting will be on from 5:30 pm until 10 pm on every day, with an additional hour on Fridays and Saturdays. On December 31 and January 5, the second to last day the decorations will be up, the lights will be on until 1 am.
€2.3 million for lights
The city council wants to make the annual Christmas lights "a new icon of the city" as it considers it to be "an essential tool to enhance commercial success during the holiday season."
Special designs by Estudi Antoni Arola can be seen in Plaça Catalunya square and Carrer d'Aragó and Gran Via de les Corts Catalanes streets.
Keeping these lights on until January 6 will cost €2.3 million, with the council maintaining a 75% subsidy in commercial areas as it has done for the past two years.
But given the current energy crisis, the lights will be switched on for a total of 217 hours, 16% less than last year, while the decoration's new and more efficient LED lights will reduce consumption by 31%.
A family event
A crowded family event to mark the switching on of the lights took place at Plaça Major square in the Catalan capital's Nou Barris district, with production company La Brutal traveling through time to show the relationship between humans and light in historical moments.
It also included musical pieces such as a Catalan version of 'Hello' from the 'The Book of Mormon' musical as well as the premiere of a song composed by Barcelona-based duo Ginestà named 'Barcelona és un regal', right before the lights switched on.
Some 5,000 people were in attendance according to the Barcelona council.
Christmas bus tours
To highlight the illumination all around the city, the Barcelona Christmas Tour returns on Friday. The 90-minute bus tour passes through the main streets and avenues and in front of the city's most emblematic buildings with a live guided tour in Catalan, Spanish, and English.
The tour runs daily, with two buses departing at 6 pm and 8 pm, except for on Christmas day when there will be no service, and on November 25th and December 31st when there will only be a 6 pm bus.