Barcelona's Tibidabo amusement park to open freefall ride in 2024
Up to 24 passengers fall 50 meters in the new drop tower that rotates 360º allowing for spectacular views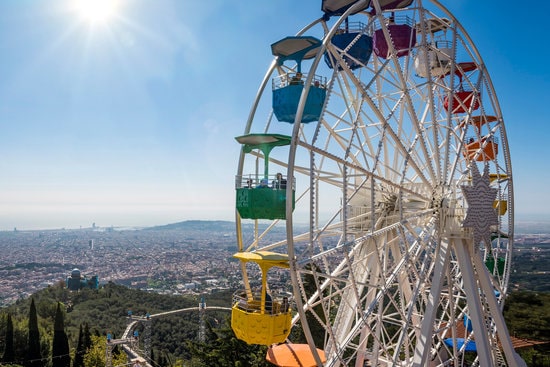 Barcelona amusement park Tibidabo will open a new freefall ride in 2024. The new drop tower will feature a 50-meter fall and will have capacity for up to 24 people per ride.
The freefall will be located on the first level of the amusement park, next to the 'Globus' ride.
The new ride at the Tibidabo park, named after the Barcelona mountain where it is located, will have a sponsorship name once it opens in 2024.
Passengers will get to enjoy spectacular views of the city of Barcelona when enjoying the freefall drop tower. The seating area will rotate 360º so everyone can see the different views before falling down the tower.
People will be seated with security vests installed in the seats and anyone measuring between 125 cm and 195 cm in height will be able to enjoy the ride.
One of the new characteristics the drop tower will feature is the magnetic brakes that will bring seating area to a stop when falling, as it does not have any chord that holds it.
This will not be the first time the Tibidabo park has featured a freefall tower, as there was a temporary one installed between 2004 and 2005. Those years, the park had welcomed more than 487,000 and 542,000 visitors, respectively, while in 2003 there were 396,373 tickets sold. Since then, the wish of the managers has been to open a new drop tower ride.
The overall cost will be €2,016,800 and the construction works will take up to one year.
Half PortAventura's drop tower height
The new ride in Barcelona's Tibidabo park will be shorter than the other drop tower located in Catalonia. The 'Hurakan Condor,' located in the PortAventura amusement park in southern Catalonia, measures 100 meters.
The difference between both rides is noticeable, however, the head of maintenance of the park in the Catalan capital has said it will be "more exciting" in an interview with the El Periodico newspaper.
"It is not necessary to have a freefall as high as the one in PortAventura, as Tibidabo is located on top of a mountain with astonishing views of Barcelona but also of the Baix Llobregat county and the Vallès area," he added.