Barcelona restaurant Disfrutar named world's third best
Josep Roca of Girona's Celler de Can Roca awarded World's Best Sommelier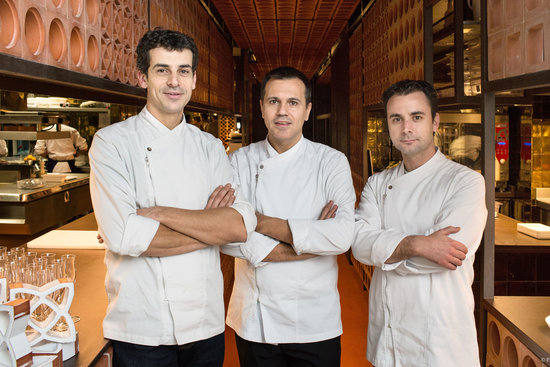 Disfrutar, the restaurant led by Oriol Castro, Eduard Xatruch and Mateu Casañas, the chefs behind the famous elBulli eatery which closed in 2011, has climbed from 5th to 3rd in the rankings of the world's best dining establishments.
The ranking was revealed on Monday evening by the organization The World's 50 Best Restaurants at a gala in London. The restaurant was described at the ceremony as an "ingenious, fun, experimental and tremendously delicious" place to eat.
The world number one has been named as Copenhagen's Geranium, with Central, from Lima, coming in second place. Diverxo, in Madrid, finished fourth, while Pujol, from Mexico City, rounded out the top five.
Meanwhile, Josep Roca, from Girona's Celler de Can Roca, took home the Beronia award for World's Best Sommelier.
Spain was awarded with various other top 50 places in the rankings. Asador Etxebarri, in the Basque town of Atxondo, came sixth; Mugaritz, in San Sebastián, ranked 21st, and at number 42 there was Quique Dacosta, from Dénia, in the southern part of the Valencian region.
More than 1,080 international experts in the catering industry took part in the voting for The World's 50 Best Restaurants 2022 list.
In 2019, The World's 50 Best Restaurants changed format and restaurants that had previously held the number 1 spot can no longer take part in the ranking. They enter a new program named 'The Best of the Best', in recognition of excellence. Therefore, El Celler de Can Roca, nor any others that have topped the list, will appear in the classification again.
Barcelona local council awards for restaurants
In separate awards, Premi Barcelona Restauració 2022, given by the Barcelona local council, Fismuler restaurant, in the Old Town, has won in the category of gastronomic quality. Echegaray, in the Sant Martí district, has prevailed in the category praising the integration to the surrounding neighborhood.
Casa Petra in Les Corts has been awarded in the innovation category, as El Racó Del Peix (Horta-Guinardó) and Casa Amàlia (Eixample) have been given sustainability prizes. Can Culleretes and Ca l'Isidre, both in the Old Town, were granted honorary mentions.