500 take part in Costa Brava New Year's Day swim
Record attendance at Sant Feliu de Guíxols beach after two-year hiatus due to pandemic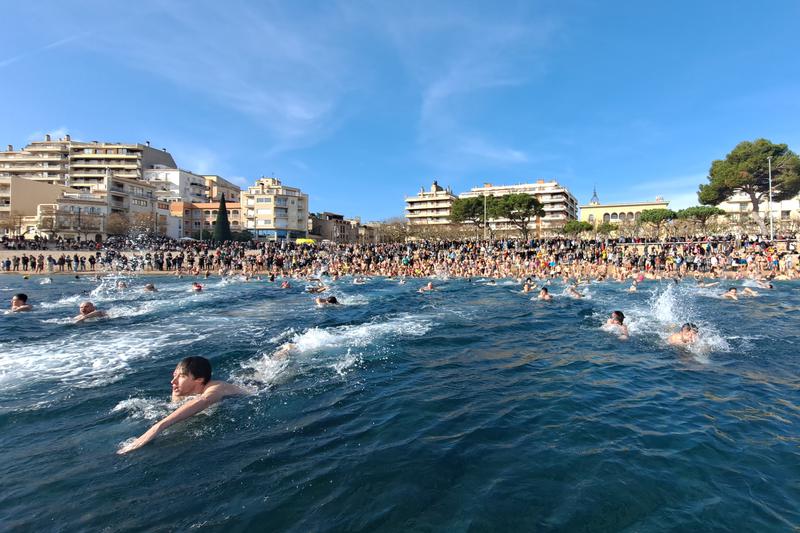 Around 500 people braved the waters at Sant Feliu de Guíxols beach on the Costa Brava to take part in the first swim of the year on New Year's Day.
At 1pm, the swimmers plunged into the water, many donning Santa hats, reindeer antlers and 2023 paraphernalia and other festive accessories.
The town's beach was overflowing with spectators who did not want to miss the first dip of the year.
Local councillor for sports, David Oliveras was delighted with the large influx of people after a two-year hiatus due to the pandemic.
"Every year the attendance grows; it has become a tradition for Sant Feliu", he said.
"There were about 300 people signed up, but many people [who took part] did not register", Oliveras explained.
"Doing this tradition, starting the year off well like this, getting into the sea, it is always good," he added.
Several participants from outside the town took part, among them, Marta Fernàndez, from Terrassa, outside Barcelona.
"We've never been before, we loved it, seeing so many people. We might come back next year or the one after," she told the Catalan News Agency (ACN).
Hot chocolate and soup
The good weather, with the sun shining and temperatures of around 16C helped to convince some doubters to take the plunge.
The water temperature of the Mediterranean was 15C, according to organizers, not as cold as some previous years.
Swimmers were rewarded with hot soup and hot chocolate as they warmed up on the beach afterwards.