Cruise industry in Catalonia: vital economic benefit or harmful social nuisance?
Sector worth over €1bn and provides 9,000 jobs, but locals and activists raise environmental and social concerns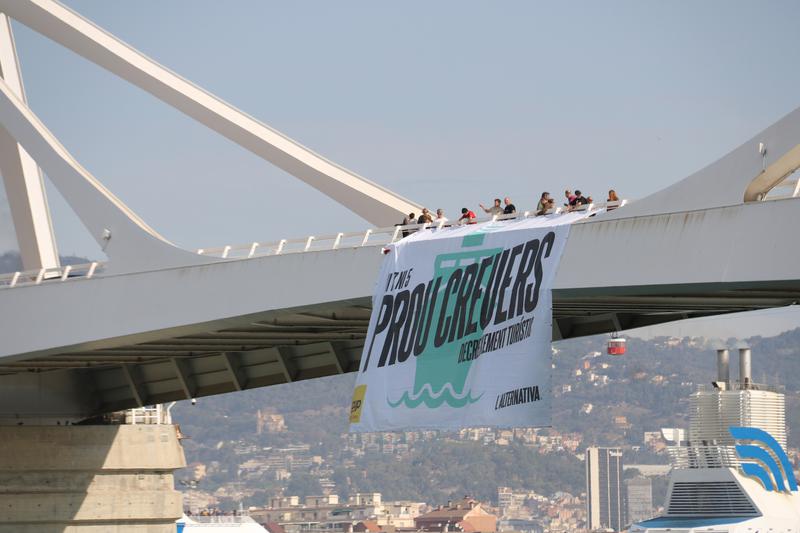 The Port of Barcelona is the busiest cruise port in Europe, with around 800 cruise ships carrying well over 3 million passengers a year.
It's a billion-euro business in Catalonia, supporting thousands of jobs, but there are also many concerns around both the environmental impact of these enormous vessels and their potential to contribute to social problems due to over-tourism.
Activist groups such as Stop Creuers (Stop Cruises) are highly active in Catalonia attempting to shed light on the problems caused by the industry, and each year as tourism numbers increase, the debate surrounding cruise ship activity intensifies once more.
The number of passengers coming to Catalan shores this year is expected to match pre-pandemic levels once again, and the forecast is that the numbers will continue to grow beyond that.
Economic impact and taxes
The Port of Barcelona alone accounts for 2% of Catalonia's total GDP, but that counts more than just cruise ships, but also ferries, cargo ships etc. Tarragona's port activity isn't on the same scale, but it's also a much smaller city. This year, the southern city expects 98,000 cruise passengers from 55 cruise liners to visit. In 2019, the cruise activity had an impact of €9.7 million, up from €7.37 million the year before.
In April 2023, a report carried out by the University of Barcelona (UB) in conjunction with the Cruise Lines International Association (CLIA), the world's largest cruise industry trade association, was presented to members of the media. Jordi Suriñach of the UB School of Economics looked into the growth of the industry in comparison with the growth of other areas of tourism, and the economic impact of visitors who come from these types of vessels.
According to the studies presented on the day, which were also citing a previous study, the economic impact of cruise activity in Catalonia in 2016 was €1.083 billion, up from €796M in 2014, which counted direct and indirect spending. In 2016, the sector supported 9,056 jobs, up from 6,759 in 2014.
However, some local politicians, including mayor Ada Colau and deputy mayor Janet Sanz, of the left-wing party Barcelona En Comú, say that many cruise passengers don't have much of an economic impact in the city. Citing the same UB study, Janet Sanz told reporters that "two of every three cruise passengers have practically no economic impact in the city, they barely spend anything."
These two points don't necessarily contradict each other – the industry can have a significant impact on the local economy counting all spending connected with the activity, but at the same time, there could be thousands of cruise passengers disembarking on a busy day with many not spending very much money in the city, while still filling the streets and squares and still contributing to the social problems of the city, as politicians say.
One way they do contribute is through the tourist tax, however. Anybody staying a night in tourist accommodation in Barcelona pays a small levy per day which is most commonly paid at a hotel when leaving. In most cases, it's to be paid when the tourist is staying overnight, but it also applies to cruise passengers who don't stay overnight.
In Barcelona, the tax is €0.75 per person per day, but cruise ship passengers will pay €5.75 this year per day, which will then go up to €6.25 next year. According to the UB and CLIA study, only 4.1% of the total number of visitors to Barcelona came from cruise ships in 2019, but their estimate is that in 2023, cruise passengers will pay 13% of the total taxes taken in by the local council.
The Catalan government has also been studying the possibility of introducing an environmental tax on large cruise liners, something the Port of Barcelona have said could see companies deciding to dock elsewhere. The deal was part of governing party Esquerra's budget deal with the opposition group En Comú Podem, but this has not yet been implemented.
Marta Ribera, who works as an economic justice technician at NGO Observatory Desk, points out that this tax will not reduce the number of visitors coming, but also warns that this tax should be used to alleviate some of the problems caused by the cruise industry, such as improving air quality. However, "we'll have to ask for precise transparency for the use of this tax," when it's introduced, she says.
Misael Alerm, of the activist group Stop Creuers Tarragona, pointed out to reporters that the first cruise ship that arrived in Tarragona on the first day of the cruise season in 2023 had a flag of the Bahamas, "which is a country that is a tax haven." This is known as a 'flag of convenience,' and ships registered in such countries can avoid paying certain corporate taxes, the rights of their workers may be diminished, and the vessels may not have to answer to the most stringent environmental controls, Alerm says.
Environmental issues
There is no question that a lot of pollution comes from cruise ships, and environmental concerns are one of the biggest issues the industry has to tackle, from greenhouse emissions, the dumping of waste, and the impact on marine life and ecosystems.
In 2019, Barcelona was Europe's most polluted city because of them, according to a report compiled by the Brussels-based NGO Transport & Environment. Their analysis explained that in Barcelona, cruise ships emitted between 2-5 times more pollutant gases than passenger cars did in 2017. Around 100 mega cruise liners arrived in the port of the Catalan capital in that year, which indicates more pollution than the capacity of the 550,000 private vehicles registered in the city.
This pollution came in the form of sulfur oxide and nitrogen oxide, two of the biggest pollutants that come from large cruise ships. The Catalan capital topped the list of cities for contamination of both harmful gases.
The report also warned that Carnival Corporation, the largest cruise operator in the world, polluted more sulfur dioxide emissions than all cars in Europe in 2017.
Nowadays, Liquefied Natural Gas (LNG) is the industry's big environmental hope. Proponents say it's a greener alternative, as Alfredo Serrano told Catalan News that LNG "emits zero sulfur oxides which is one key component of pollution. It emits 95% less particular matter and 85% less nitrogen oxides, which is the biggest pollutant in Barcelona." Fernando Pacheco, Managing Director of MSC Cruises in Spain, told this outlet that the use of LNG is "a new milestone in our sustainability path."
But not everyone is convinced. At a Stop Cruises protest in May to draw attention to the issue, Ariadna Coté outlined activists' reasons for skepticism on the use of LNG: "We are very critical of this supposed new sustainability of cruise ship tourism, because the only solution they offer is that their ships are increasingly using LNG, but this is a trick because LNG is still a fossil fuel and it emits the same amount or more as other fuels. Apart from CO2, it emits methane which affects climate change much more than CO2."
LNG is comprised mostly of methane, and imports of the fuel have soared in the wake of the Ukraine war. However, a BBC report last year based on analysis from Norwegian research firm Rystad Energy outlined that the production and transportation of LNG was extremely energy-intensive and polluting. "For piped gas from Norway, we see around 7kg of CO2 per barrel, but for LNG imports into Europe, we estimate the average is over 70kg."
The industry say they are proud that some 35% of cruise passengers coming to Barcelona in 2023 will arrive on LNG-powered vessels.
One of the best opportunities the industry has to reduce their emissions in the short term is to electrify the docks where the ships are stationary for many hours at a time. Cities suffer huge amounts of pollution when ships arrive to allow passengers to disembark for a certain number of hours before they then take off again. During this time, the ships have to keep their engines on, emitting significant amounts of pollution.
There are plans to electrify Barcelona's port docks, and in May 2023, works began to add this process to one of the first terminals.
"Over-tourism" and social issues
Many local activists and politicians complain that ships arrive for just a handful of hours, and thousands of cruise passengers disembark and "collapse," or "overwhelm" the city for that period, often without the economic benefit of them spending much money in the city.
The study carried out by the University of Barcelona with the CLIA group says that only 4.1% of tourists who came to Catalonia in 2019 came from cruise ships. The daily average that year saw 6,566 cruise passengers in the city, of a total of 158,610.
"We represent 4.1% of the total number of visitors [in Barcelona], so when you are sometimes confronted with the possibility of whether cruise activity is responsible for tourism congestion of the city, the conclusion I understand from the Barcelona University is that there is absolutely no data that confirms that," Alfredo Serrano says.
Their study claimed that there was no evidence to show that certain tourist hotspots and attractions were particularly overcrowded correlating with the arrival of cruise ship passengers.
Additionally, members of the industry wanted to point out that the average growth of cruise passengers from 2010-2019 was 3.1%, while the growth of overall visitors was 4.3%, meanwhile, visitors who came from airports grew by 8% in that time.
If there is tourist congestion in the city, the cruise industry believes that it's not because of them.
Yet, political leaders in Barcelona don't buy this narrative. "We're talking about 3.3 million [cruise ship passengers] that will arrive this year, and this could reach 4 million next year. This is absolutely unsustainable," Janet Sanz said at a media briefing at the beginning of the cruise season this year. She added that "two of every three cruise ship passengers that visit Barcelona have almost no economic impact here, 72% of passengers only stay a few hours."
Many locals also believe that these visitors have a negative impact on neighborhoods and the lives of locals. Misael Alerm of Stop Creuers Tarragona explained that "businesses are increasingly changing to serve this type of tourism" and locals no longer have many of the services they need because businesses have started to change to cater to these "people who come for a few hours and leave."
Barcelona mayor Ada Colau is another vocal critic of the "over-tourism" that she feels can be generated from the cruise industry, and she is urging the government to agree to limiting the number of cruise passengers who can arrive at Barcelona every month to 200,000, which would mean a reduction of around half.
"There's been a huge increase in the number of cruise ship passengers who don't give many benefits to the city as is said, especially those 40% of passengers who spend 4 or 5 hours in the city," she said at a debate in April 2023.
"This means that there could be 25,000 people who disembark, enter the city, and collapse the city center without spending much money. This generates a feeling among locals that they can't live in these neighborhoods."