Western Catalan village echoes with sound of bells after UNESCO honor
35th Bell-Ringers Gathering in Os de Balaguer celebrates manual bell ringing's Intangible Cultural Heritage status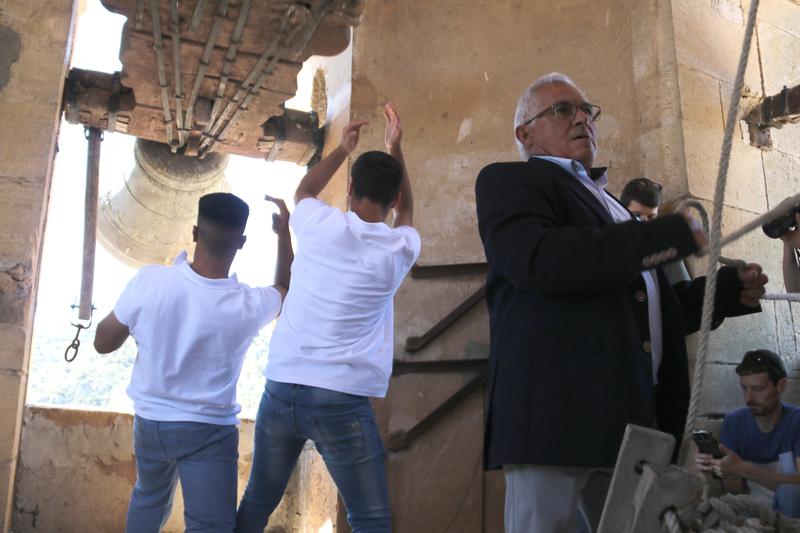 The sound of church bells echoed around the western Catalan village of Os de Balaguer on Sunday, and not just to call on the faithful to attend mass.
The village celebrated its 35th Bell-ringers Gathering, and the first since UNESCO declared manual bell ringing to be Intangible Cultural Heritage of Humanity in December.
More than 60 bell-ringers from around Spain and hundreds of other people filled the streets around the town hall, where they were able to take part in activities related to manual bell-ringing.
"We celebrated it as a big party," said the mayor, Estefania Rufach.
Ignasi Cortés, a founding member of the village's bell-ringers, hoped the day would spread the word about manual bell ringing and remind people of the bell-ringer's role as a figure "at the service of the people."
UNESCO recognition
UNESCO's recognition of manual bell ringing is something bell-ringers like Cortés had been seeking for a long time.
"This year we achieved the milestone that we have been wanting for years," Cortés said.
The occasion was marked at 12 noon on Sunday with a special ringing of the bells, with Albert Martí, general secretary of the Catalan Federation of Associations for UNESCO, saying that "the world is listening."
This "culture of sound helps the social and cultural cohesion of our territories," he added.
Adelaida Moya, who heads up the Catalan government's body that promotes popular and traditional culture, said the UN declaration was "very significant" because it brings the practice of manual bell ringing in villages like Os de Balaguer "to the world."
Keeping the tradition going
Bell ringing is a centuries-old practice that is increasingly automated. Os de Balaguer has managed to preserve its tradition of manual bell ringing and pass it on to the next generation of young people, who remain interested, in part, due to the festival that takes place every year.
"When you arrive in a town you always look at the bell tower, don't you? It's an identity," Cortés said.