New dog-friendly beach in Costa Brava
Platja d'Aro and Calonge prepare Cala Belladona cove to become pet-friendly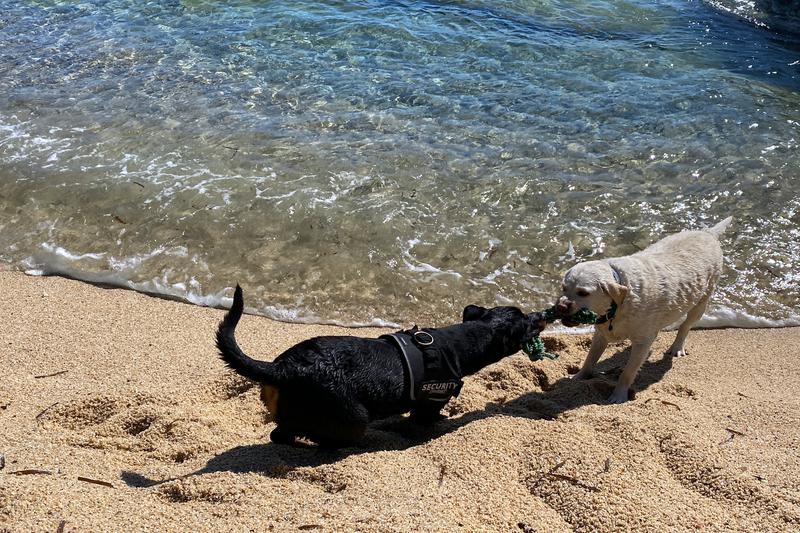 The Cala Belladona cove in the Costa Brava towns of Calonge i Sant Antoni and Platja d'Aro is now a dog-friendly beach, as announced by officials from both towns on Monday.
Officials will even open a small bar with services especially for pets.
Many pet owners, both locals and tourists, have been requesting the councils to open a dog-friendly beach in the area as until now they had to go to different towns for dogs to enjoy a swim.
"We are now a fully pet-friendly municipality," Jenny Xufré, Platja d'Aro's councilor for tourism, declared.
"I believe that pet owners consider their pets as another member of the family, and they also like to go on vacation [with their dogs], travel, go to restaurants and [for the animal to be] served water, even go to the beach, and our goal was to be able to offer these services," Xufré added.
"It was a need that many private operators and tourists had asked for," Calonge mayor Arturo Prades told journalists on the beach.
The new beach will be open all year and has 2,500 square meters for dogs to enjoy and play in this space located less than a 10-minute drive from each municipality. Those willing to walk to the destination can access the beach using the Camí de Ronda hiking trail and also from the Via Verda path starting on the C-253 road.
"It is a dog's paradise," Xufré said.
Until now, there were just a few dog-friendly beaches in the Baix Empordà county including Platja dels Griells beach in l'Estartit, Cala del Niu cove in Sant Feliu de Guíxols, and Platja Pere Grau beach in Palamós.