Catalonia's 'Library of Alexandria': a millennium of history and 65 km of shelves
Biblioteca de Catalunya dates back to 889 and is home to 4.7 million documents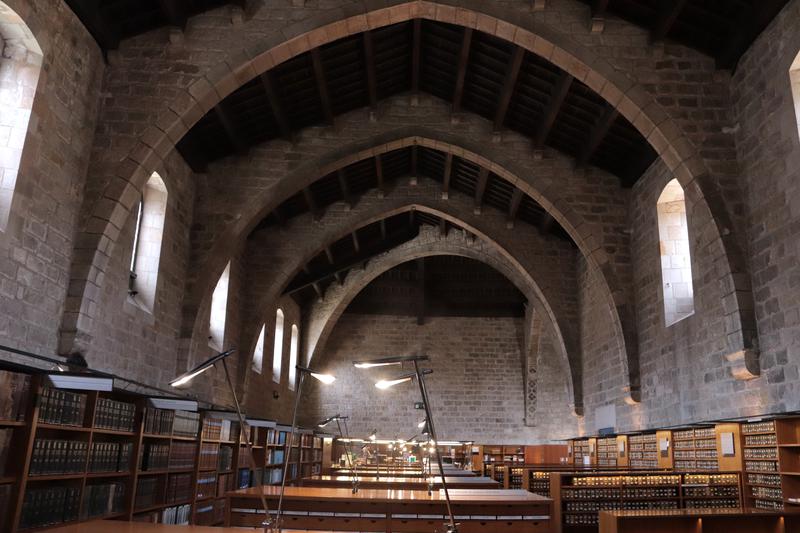 With nearly 65 kilometers of shelves, a physical collection that exceeds 4.7 million documents (4,727,816) and a digital collection of more than 100 TB, the Biblioteca de Catalunya (Library of Catalonia) aims to preserve Catalonia's written heritage.
A modern-day Library of Alexandria, it keeps a copy of every book published in Catalonia, as well as sound and video recordings and other written documents.
Its collection dates back to the year 889, with every literary period represented since the first written texts in Catalan.
Since 1981, all books and other works published must be deposited in the library by law.
Knowledge and heritage
Catalonia's national library aims to "collect everything that is published in any medium, whether that's books, magazines, sheet music, sound recordings or videos," Eugènia Serra, the library's director told the Catalan News Agency (ACN).
The 4.7 million documents in the collection enable people "both now and in future generations to have access to the knowledge and heritage of what is important for the social and cultural history of Catalonia," Serra said.
Over 100,000 new documents a year
The library's collection is mainly stored over several floors in the basement of its building on Carrer Hospital in Barcelona, and in a warehouse in L'Hospitalet de Llobregat.
Between donated material, purchases, and works deposited by law, "about 150,000 documents" arrive at the Biblioteca de Catalunya every year, including books, magazines, letters, maps, sheet music, vinyls and CDs.
Of these, around 130,000 are accepted for processing, of which between 100,000 and 120,000 remain in storage. Some specimens are rejected, often to avoid accumulating duplicates.
Unique documents, such as correspondence from an author donating their collection, are usually accepted.
The library is the preferred home for conserving material from writers, publishers and musicians – it has around 400 personal collections – while another institution, the National Archive of Catalonia, stores documents from the political and business world.
With space limited and the collection set to continue growing, Catalonia's national library is considering looking for locations to gradually expand its facilities.
Digitized documents, newspapers and websites
The Biblioteca de Catalunya is also responsible for preserving Catalonia's digital heritage. They make one copy a year of Catalan websites and in total hold 124,000 versions of websites, amounting to around 45 terabytes of data.
On top of that, the library has another 69 terabytes of published digital material and digitized versions of non-copyrighted works from the analogue collection.
The library also contains digitized material from the Archive of Old Catalan Magazines (ARCA), a cooperative project that brings together issues of newspapers and magazines of interest to Catalonia that are no longer published, dating back to 1761.
In total, the library's digital collection contains between 112 and 114 terabytes of data.
A millennium of history
The written heritage of Catalonia's national library stretches back more than a millennium, with the Consecration Act of the Church of the Castle of Tona (Osona), from 889, the oldest document.
The original version of the Organyà Homilies, the oldest known existing literary text in Catalan also forms part of the library's archives.
The library also contains other interesting historical objects, such as a piano belonging to the composer Enric Granados, library cards issued during the Spanish Civil War and later annulled by Franco, and letters from Grace Kelly and Elizabeth Taylor to the famous Catalan surgeon Dr. Josep Trueta.
The library building itself dates from the 15th century and functioned as a hospital for five centuries, treating patients including Catalan patriot Rafael Casanova and the architect Antoni Gaudí.