'Alcarràs' and the success of filmmaker Carla Simón's personal touch
Director made history with her second feature by picking up the Golden Bear at Berlinale International Film Festival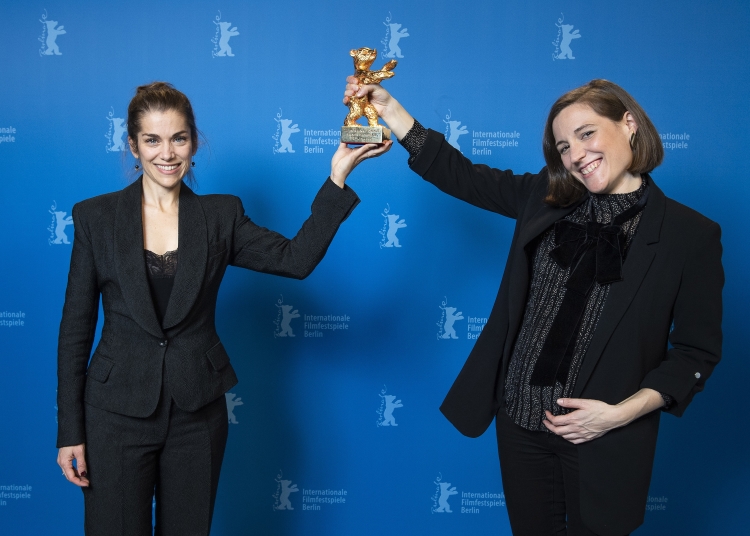 This year's Berlinale International Film Festival saw a landmark achievement for Catalan cinema – for the first time ever, the winner of the top prize at one of the world's most prestigious film fests was Catalan, Carla Simón's 'Alcarràs'.
The movie is a tribute to rural life, family farms, and respectful agriculture. It tells the story of the last fruit harvest that a family goes through on their farm where they have cultivated peaches for generations before they must leave the land after the owners decide to install solar panels.
Much of the film takes place at the family home surrounded by the fields where they work. Here, we see the family gradually come to grips with their new reality.
Carla Simón's personal stories
Director Carla Simón has found huge success in pouring her own heart and soul into her work.
In her acceptance speech in Berlin upon taking the top prize at one of the world's most prestigious international film festivals, she thanked her family who grew peaches in 'Alcarràs' for bringing her so close to this world. Without them, she said, she wouldn't have been able to make this emotive film.
"The loss of my godfather, who had always worked in the fields, made me appreciate his legacy and I wondered if those trees would really be there forever. And the answer, probably, is no," Simón said in an interview with the Catalan News Agency during the week of the Berlinale film fest.
Judith Colell, president of the Catalan Film Academy, believes that "Carla has a very personal style and a very personal way to approach reality, to approach very intimate stories that are related to her own life, her own experiences."
Her directorial debut was even closer to her own personal experiences that 'Alcarràs'. 'Summer 1993' ('Estiu 1993' in Catalan) told the story of a young child who had to move in with her uncle, aunt, and cousin in the north Catalan countryside after her mother passes away from AIDS. This tragedy is exactly what Carla Simón went through at the same age as the child in the movie did.
'Summer 1993' was another huge hit at festivals around the world, picking up awards in Berlin, Cannes, Málaga, and many others. It was also chosen as the second-ever Catalan language film to be Spain's entry to the Oscars for Best International Feature, after Agustí Villalonga's 2010 blockbuster 'Pa Negre'.
Simón's short documentary 'Born Positive' examines the stigma that three young people in London face after they were born HIV positive, while her short fictional piece 'Lipstick' was the first time she explored the topic of children coming into contact with death for the first time in their lives.
"I think it's a style of films that now are having a lot of acceptance in festivals, films that talk about reality and our real lives, and this is very very interesting," Judith Colell considers.
Non-professional actors
Another key aspect of 'Alcarràs' is the fact that the entire cast was non-professional, found from around 9,000 auditions from people all local to the rural western Catalan area.
Using an amateur cast was an important aspect of the film because it added a layer of authenticity that would otherwise be impossible to recreate. The film offers a true portrayal of the lives of people who live in the rural west because the cast almost plays versions of themselves. Many have worked on farms and cultivated peaches for their entire lives.
Montse Oró, who played Nati, the aunty of the family, underlined the importance of using local actors in an interview with Catalan News at the film's premiere in Lleida. She said that a film showing life in Alcarràs had to include their particular ways of speaking in the dialect local to the Lleida region, as well as showing their own mannerisms and their own idiosyncrasies when it comes to farm life.
However, using amateur actors also provided challenges, as Simón had to help the cast find their voices as actors. Jordi Pujol Dolcet, who played Quimet, the father of the house, told Catalan News that working with Simón was "easy", she helped them understand everything they had to know, and he described her as "un crack" - brilliant.
Anna Otin, who played Dolors, the mother of the family, explained that Simón helped her lower her acting levels to find a "calmness", while Jordi had to raise his energy for the pair to find the perfect "balance as a couple."
For months leading up to the shoot, the cast spent a lot of time together on weekends and evenings in order to foster familial dynamics with one another. They had to essentially become a new family for the big screen, and they all agreed at the premiere, almost an entire year after the shoot, that they now all had second families – each other.
This process of building a family spirit also gave them a chance to rehearse for months, something not commonly done in cinema for such a long time.