Zombies take over Sitges as film festival gets into full swing
Mad Max is this year's theme for the 11-day fantasy & horror genre celebration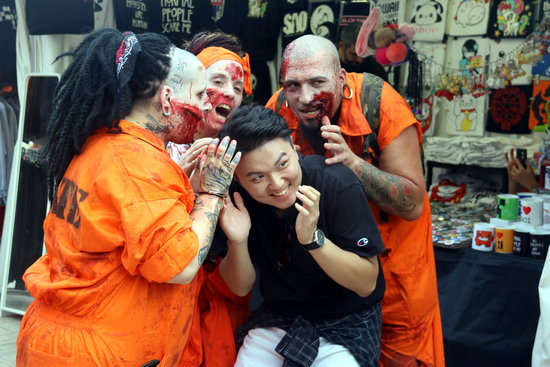 Zombies took over the town of Sitges on Saturday evening as part of the famous 'Zombie Walk' annual tradition of the international film festival. The Horror & Fantasy Film Festival kicked off in the seaside town south of Barcelona last week and was already in full swing by the time the living dead marched through the picturesque streets of Sitges.
Every October, the Catalan town becomes the world capital of avant-garde and classic fantasy and horror cinema, offering fans unforgettable experiences and innovative art across eleven days of excitement.
Central to the celebrations is the Zombie Walk, where hundreds of horror fans don the streets in professional-grade makeup, paying homage to their favourite characters and terrifying the locals at the same time. Kicking off the tradition this year was the director Charles Band, who is in town to pick up the Sitges 'Time Machine Award.'
World reference point
The festival is a world reference point for the genre. It is one of the biggest cultural events in the Catalan calendar, and brought around 200,000 visitors to the beautiful seaside town of Sitges in 2018 to watch over 1770 hours of cinema.
Among the most anticipated films showing this year are 'The Lighthouse', starring Willem Dafoe and Robert Pattinson, Nicholas Cage's latest work 'Color Out of Space', Lithuanian animation 'Away', and 'The Beach House'.
Jeffrey A. Brown, director of The Beach House, told Catalan News it was "amazing" to be at the film festival for his directorial debut, and teased the film as a "science-fiction horror film about a romantic getaway that goes horribly wrong."
Stars coming to town
The festival attracts some of the biggest names in Hollywood to Catalonia, with Quentin Tarantino, Anthony Hopkins, Jodie Foster just some of the names that have made appearances in recent years.
This year will be no different, with Sam Neill, Asia Argento, and Aaron Paul among others coming to town. Paul, who starred as Jesse Pinkman in the hit television series Breaking Bad, visited the festival as part of the premiere of the Netflix work 'El Camino: A Breaking Bad Movie.'
Also making an appearance on the Catalan coast this autumn was Nikolaj Coster-Waldau, who famously played Jaime Lannister in the HBO series 'Game of Thrones.' He was in Sitges to promote his latest film, 'Suicide Tourist.'
Returning this year is the particular focus on women directors. The festival keeps equality at the forefront of their planning by dedicating a large section of the programme to female directors.
Some of the highlights in this section include Mirrah Foulkes' revenge tale 'Judy and Punch,' and Mitzi Perione's 'Braid', starring Madeline Brewer, Imogen Waterhouse, and Sarah Hay.
Forever bringing the action closer to you, there will be a virtual reality section of the festival this year again. A total of 20 interactive pieces make up this year's VR offering, crossing cutting-edge technology with cinema for a truly incredible experience.