Woody Allen opens Barcelona Jazz Festival with two concerts
Festival lasting from September 18 to December 30 kicks off with film director's jazz shows in Tívoli Theatre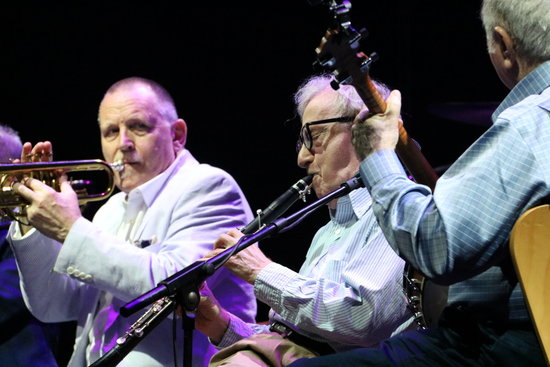 American film director Woody Allen opened the 55th edition of the Barcelona Jazz Festival on Monday night, and he plays another show with his band on September 19 at the Tívoli Theater.
The Barcelona Jazz Festival will see performances in various city locations from September 18 to December 30.
This year's edition has concerts from "historic artists from the 20th and 21st century like Chucho Valdés and Joshua Redman," says the festival's artistic director Joan Anton Cararach.
One of the highlights will be the Dominican pianist Michel Camilo's "unique" concert along with Marco Mezquida. Michel Camilo will also receive the gold medal of the festival.
The festival will also see various Catalan artists like Andrea Motis and Clara Peya, and performances from the Rufaca Folk Jazz Orchestra and the Big Band Jazz Maresme.
Other concerts can be seen in the Moll de la Fusta harbor in the Jazz&Food part of the festival on September 25 with 10 hours of free music and performances from the Sant Andreu Dixie Band, The Big Easy's Crew, and the Liceu BLAM Collective.
Woody Allen and Barcelona
On Woody Allen's visit to the Catalan capital, Woody Allen took the opportunity to promote his new film "Coup de chance" based in Paris and where luck and chance play an important role.
In an interview with Catalan News Agency (ACN), Allen explained that he finds Barcelona to be "one of the great cities in the world" and a "fun place to film", as he once did with the movie "Vicky, Cristina, Barcelona".
About the possibility of filming again in Barcelona, the American director mentions that "if I came up with a good idea for Barcelona I would be happy to work here. It is a great city with a lot of energy and culture."