Uncertainty ahead of July 23 summer Sant Jordi
Some book and rose stands expected on alternative date set due to Covid lockdown in April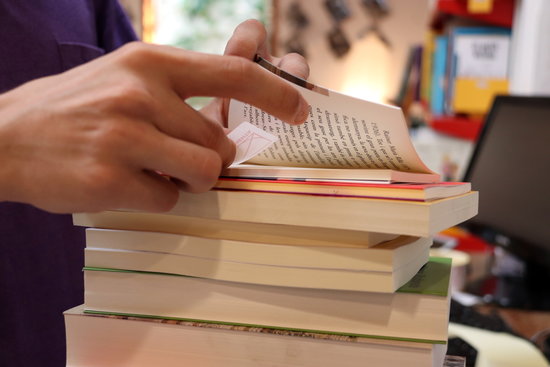 April 23 is a date all Catalans know: Sant Jordi, or Saint George's day, when streets and squares are lined with book and rose stands and people hurrying out to meet their favorite authors at book signings.
Yet this year, of course, was different. Catalonia's patron saint festivities fell during the Covid-19 lockdown, forcing everyone indoors and dealing a major blow to bookstores and flower shops on one of their biggest days for sales.
Because of this, an alternative summer Sant Jordi will be celebrated on Thursday, but even that hasn't been able to go according to plan as, for example, the designated area for book and rose stands in the center of Barcelona will not be set up after all due to health and safety concerns.
Other towns like Figueres or Reus will not be celebrating this summer Sant Jordi either, nor will Segrià county, home to the city of Lleida – not to mention the number of businesses will not be putting stands out in front of their stores.
What to expect
But what can we expect on Thursday for these alternative festivities? Will this summer Sant Jordi be a success?
Although the Book Chamber estimates that some 70 stores have asked Civil Protection for permission to set bookstalls right outside their doors, it seems that for many shops, July 23 will be any other "normal" day as Lluís Morral of Barcelona's Laie bookstore explains.
Laie, for one, had hoped to set up book stands by its CCCB and Carrer de Pau Claris stores, but decided against doing so after restrictions were announced in the Barcelona area last week.
Eric del Arco, of another major Barcelona bookstore, Documenta, has stated that his bookstore will not be setting up any stands either but will offer 10% discounts and has invited a number of writers to come sign books for customers who call up in advance.
One of the Catalan capital's newest bookstores, Ona Llibres, which only opened its doors last May, will be following the same course as Laie and treat the summer Sant Jordi like any other day.
As for roses, the other key element of any Sant Jordi, the Florists' Guild is encouraging flower shops to, like book vendors, set up stands right outside their doors. How many will end up doing so is yet to come clear as some florists have expressed concerns that the warm summer weather is not ideal for having cut roses outside for too long.