Two Dalí paintings sold for €7m at auction
Pieces 'Maison pour érotomane' and 'Gradiva' were owned by an Argentinian family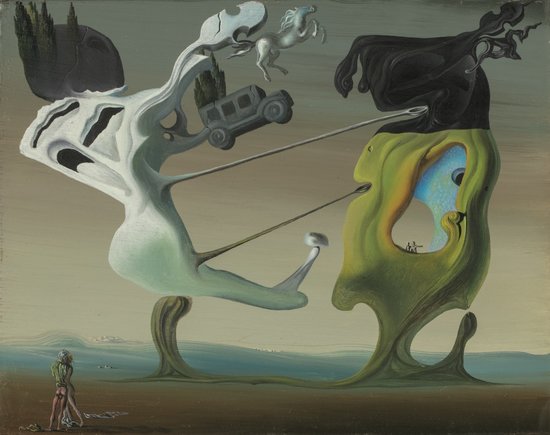 Two paintings by the renowned Catalan painter Salvador Dalí were sold at an auction for €7 million. The works are called 'Maison pour érotomane' and 'Gradiva', and date from 1932 and 1931 respectively. The former was sold for €4 million, while the latter was bought for €3 million. Up until now, both paintings have been in the possession of an Argentinian family, descendants of countess of Cuvas de la Vera, who had acquired both works directly from the Catalan painter.
'Maison pour érotomane' depicts a Catalan landscape, with rocks turning into fantasy figures. It was on display at the Pierre Colle gallery in Paris in the thirties. Dating from the height of Dalí's Surrealism, the work brings together key elements of the painter's art from this pivotal period: a continuous fixation on the theme of eroticism and death, as well as his obsession with the rock formations of the Catalan landscape.
Meanwhile, 'Gradiva' shows a half-naked woman, who represents the feminine figure that the main character of a book by Wilhelm Jensen is obsessed with. A sketch of this work, called 'Étude for Gradiva,' was also sold for just over €100,000. Along with Dalí works, a painting by Pablo Picasso was additionally purchased: a portrait of Marie-Thérèse, painted by the Spanish artist, sold for €56.2 million. The auction was organised by Sotheby's auction house.