Two Catalan photojournalists nominated for World Press Photo 2020
Barcelona will be one of first cities in world to host prestigious contest after winners announced in Amsterdam on April 16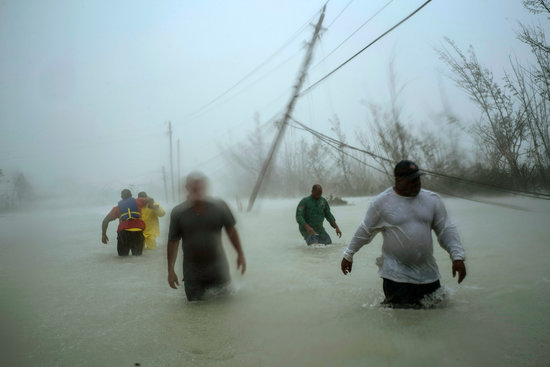 Two Catalan photojournalists, Ricard García Vilanova and Ramon Espinosa, have been nominated for the World Press Photo 2020 contest, in the categories of General News and Spot News, respectively.
Vilanova's image is from the protests in Iraq known as the Tishreen Revolution that began at the end of last year, while Espinosa's photo shows the devastation caused by Hurricane Dorian in the Bahamas in September 2019.
What's more, Barcelona will be one of the first cities in the world to host the exhibition of the winners of the prestigious photography contest, which will be announced on April 16, after it premieres on April 18 in De Nieuwe Kerk, in Amsterdam.
Apart from the two Catalans, Antonio Pizarro Rodríguez from Seville is also one of the nominees, in the Nature category, for his image of two Iberian lynx, the most endangered feline species on the planet, in the Doñana National Park.
This year's World Press Photo contest considered 73,996 photos from 4,282 photographers from around the world, with the 44 final nominees for the 2020 edition chosen from 24 different countries.
The Catalan candidates
With a career of more than 20 years, Vilanova specializes in areas suffering conflict and humanitarian crisis, and along with journalist Karlos Zururuza won the Photographic Social Vision grant in 2016 for a project on Libyan migrants fleeing to Europe.
Vilanova's photos have been published in such prestigious newspapers as 'The New York Times', 'The Washington Post', 'The Wall Street Journal', 'Le Monde', 'Libération', 'The Guardian' and 'Die Welt'.
Meanwhile, Espinosa, who like Vilanova is from Barcelona, is a staff photographer for the Associated Press news agency, and was described by Time magazine as the photographer who captured the most haunting photographs of Dorian and its aftermath.
The winning images of the World Press Photo 2020 can be seen in Barcelona between April 25 and June 1, thanks to the Photographic Social Vision foundation, at the Center of Contemporary Culture (CCCB).
The two main prizes in the contest are the World Press Photo of the Year and the World Press Photo Story of the Year, with six photographers from different countries nominated for the first category and three for the latter.