The Sitges International Festival of Fantastic Film of Catalonia confirms its rising ascendency
The 46th edition of the International Festival of Fantastic Film of Catalonia ended on 20th of October in Sitges (Greater Barcelona) on a very successful note. Ticket sales and public interest reached new highs while supernatural thriller Borgman was awarded 'Best Film'. Fan favourite Charles Dance received 'Time Machine Award', Israeli directors Aharon and Navot Papushado Keshales won 'Best Director' and British actress Juno Temple and Chinese actor Andy Lau were also distinguished.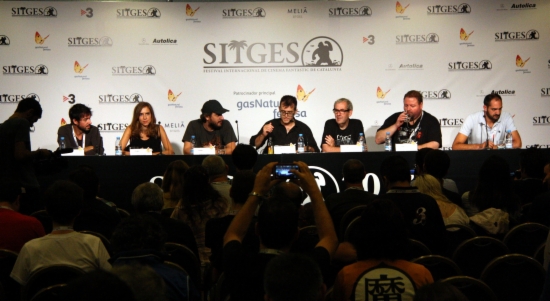 Barcelona (ACN).- The 46th International Festival of Fantastic Film of Catalonia Sitges 2013 ended this weekend with "amazing and unexpected figures" thereby confirming its "rising ascendancy", so were the words of the festival Director, Angel Sala. This year's edition crowned Borgman as 'Best Film' of the official competition. Approximately 60,000 tickets were sold over 9 days, beating the previous year record of 55,000. Sala praised the public "for their critical eye" and "their active involvement and their knowledge" during the festival.
The numbers already bode well when it was announced on Wednesday that up to 54,313 tickets had been sold that day when lat year at the same date, only 49,156 tickets had been purchased, meaning an increase in sales of over 10%. Angel Sala also stressed the value of these figures because this year's festival was one day shorter.
The jury of the official competition was composed of director Fede Alvarez (Infernal Possession), actress, screenwriter and director Aina Clotet, director Miguel Angel Vivas - who presented the disturbing Secuestrados in Sitges two years ago - and Di Marcelo Panozzo and Christian Hallman, respectively director of the International Fantastic Film Festival in Lund (Sweden) and coordinator of the European Fantastic Film Festival, the largest network of film festivals in the world.
Dutch film-maker Alex van Warmerdam won 'Best Film' for his supernatural thriller Borgman, a dark and malevolent tale oscillating between reality and fantasy. Alex van Warmerdam ( Haarlem, 1952) studied painting and design in Amsterdam. His debut film Abel, was screened at the Venice Film Festival in 1986, in a film career which also features films such as Little Tony (1998) or Grimm (2003). On receiving his prize, Alex van Warmerdam jokingly expressed his astonishment at receiving a career rewarding prize at such a young age. He explained the award was a motivation to keep working.
Israelis Aharon and Navot Papushado Keshales, were recognized the Best Director Award for Big Bad Wolves while Juno Temple was awarded Best Actress for Magic Magic and Andy Lau Best Actor for Blind Detectives.
James Ward Byrkit won Best Screenplay for Coherence. The Best Special Effects were awarded to horror film Afflicted by Cliff Prowse and Derek Lee while Larry Smith won Best Cinematography for Only God Forgives, the latest movie by Drive Director , Nicolas Winding Refn, starring Ryan Gosling and Kristin Scott Thomas. The special Jury Award went to Jim Jarmusch's vampire love story, Only Lovers left Alive, while the Special Jury Mention was awarded to documentary Jodorowsky's Dune by Frank Pavich. Dune was also a favorite of movie viewers, winning the Audience Award.
The fantastic Film Festival of Catalonia recognized the career of actor Charles Dance and handed him the Time Machine Award. Charles Dance, currently known for his role as Tywin Lannister in Game of Thrones, and starring in the movie Patrick, by Mark Hartley, has also played memorable roles in films like such as Alien 3 and Last Action Hero.
The Critique Jury of the 46th edition of Sitges International Fantastic Film Festival of Catalonia, was composed of Marta Armengou , Alexander G. Calvo and Gerard Alonso Cassadó. The Jose Luis Guarner Prize was awarded to Ari Folman's Congress, while the Citizen Kane Award for Best New Director was won by Upstream Color, by Shane Carruth.

Fouad Challa , Michael Fañanás and Alvaro Iglesias, the members of The Jury Silver Méliès, awarded Best Film to Enemy, by Denise Villeneuve while the Award for Best Short went to The Body, by Paul Davis. The Best Film Award of the Official Fantastic Panorama Competition, was given to Jeff Renfroe's The Colony, while Frankenstein's Army by Richard Raaphorst received a special mention. In addition, The Landing by Josh Tanner was awarded Best Short Film in the Official Fantastic Competition.
The 46th Sitges Festival had started off with the screening of Catalan thriller Grand Piano directed by Eugenio Mira and starring Elijah Wood and John Cusack. This movie, dwelling on the idea of stage fright, focuses on a young pianist during one of his most important concerts. In fact, a concert that will be a matter of life or death. At the press conference, Mira said that one of the ideas that runs throughout the film is that "the way to overcome fear is through shock."
Regarding the issue next year, Angel Sala noted that the media attention would follow "the same style and leitmotif of the previous editions". He also expressed his belief that there would be no shortage of fantasy films in the years to come.