'The Good Boss' makes history with 20 nominations for 2022 Goya Awards
Movie directed by Fernando León de Aranoa and starring Javier Bardem was co-produced by Catalan company Mediapro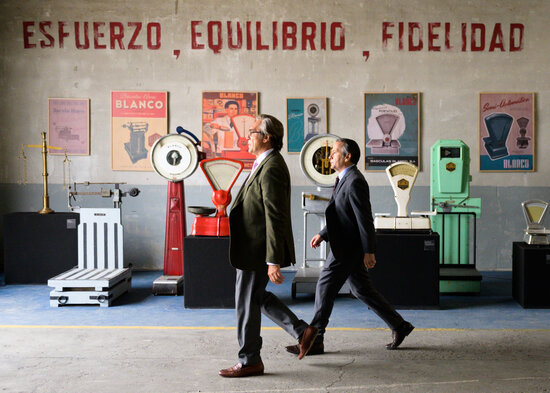 "And the 2022 Goya Award goes to" ... The Good Boss, most likely. The Catalan co-production has received a record-breaking 20 nominations for next year's film awards.
The nominees for the 2022 Goya Awards, Spain's equivalent of the Oscars, were announced on Monday, with The Good Boss (El buen patrón), directed by Fernando León de Aranoa, moving ahead of Imanol Uribe's Running Out of Time (Días contados), on the all-time list. The 1994 thriller won eight Goya Awards after receiving 19 nominations.
Next up on the 2022 nomination list is Icíar Bollaín's Maixabel with 14, followed by Pedro Almodóvar's Parallel Mothers (Madres paralelas) with eight. Mediterráneo by Marcel Barrena has seven while Clara Roquet's Libertad and The Laws of the Border (Las leyes de la frontera) by Daniel Monzón are tied on six nominations each.
The Best Picture nominees are The Good Boss, Maixabel, Parallel Mothers, Mediterráneo and Libertad, with Fernando León de Aranoa (The Good Boss), Manuel Martín Cuenca (The Daughter), Pedro Almodóvar (Parallel Mothers) and Icíar Bollaín (Maixabel) nominated for Best Director.
The nominees for Best Actress are Emma Suárez (Josefina), Petra Martínez (That Was Life), Penélope Cruz (Parallel Mothers) and Blanca Portillo (Maixabel), while Javier Bardem (The Good Boss), Javier Gutiérrez (The Daughter), Luis Tosar (Maixabel) and Eduard Fernández (Mediterráneo) have been nominated in the Best Actor category.
Catalan production
Three out of four nominees in the Best Supporting Actor category come from the same film. Celso Bugallo, Fernando Albizu and Manolo Solo all starred in The Good Boss, a movie co-produced by the Catalan production company Mediapro, with the support of Catalan public broadcaster Televisió de Catalunya, among others. Rounding off the category is Urko Olazabal for his role in Maixabel.
In the Best Supporting Actress category, Aitana Sánchez-Gijón and Milena Smit, both from Parallel Mothers, are nominated alongside Nora Navas for Libertad and Sonia Almarcha for her role in The Good Boss.
The 36th Goya Awards will be held in Valencia on February 12 and will feature a tribute to Valencian director and screenwriter Luis García Berlanga, who died in 2010. José Sacristán will receive the Honorary Goya Award.