Snail festival kicks off in Lleida with 200,000 anticipated attendees
L'Aplec del Caragol also features tastings, concerts, and human towers on banks of Segre river in western Catalonia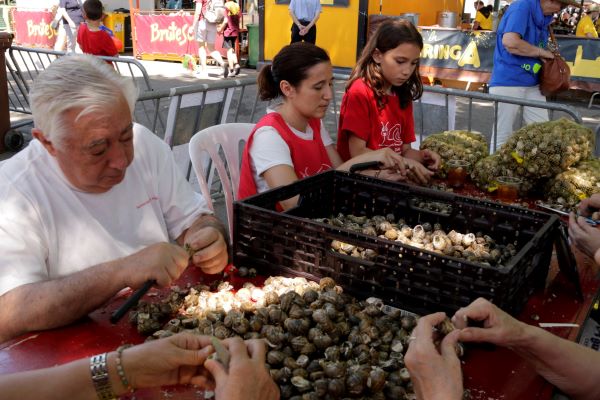 The Lleida Alpec del Caragol snail festival kicks off on Friday for a weekend of cuisine, contests, concerts and castell human towers, with 200,000 visitors expected over its three days of running.
Inside the main festival area there is a tasting zone open to the general public which offers various types of snails - 12 tons of them, to be precise.
Aside from gastronomy, the festival offers a series of cultural activities, such as shows, charanga marching bands, dance exhibitions, castell human towers, and contests, all of which are free and open to the general public.
The brainchild of three different people, José Luís González, Antoni Costa i Sumell and Manolo Calpe, L'Aplec del Caragol was founded in 1980, and was originally a small affair, with just 300 attendees from 12 different groups.
However, with time the festival has refined itself to grow to be renowned internationally, with snails being imported from as far as North Africa and South America to feed its 200,000 visitors.
The snails, prepared by the 100 or so 'colles' (gangs) of 13,000 'penyistes' (participants), are cooked in many ways: aioli style, in a casserole, but the most popular cooked "a la llauna" - on a flat metal plate with handles.
The Aplec del Caragol takes place on the banks of the Segre river and in Lleida's Camps Elisis park, and runs from Friday afternoon until Sunday May 22.
Check out the event's website for the full programme of activities.
Snails: a Catalan delicacy
With festivals as large as L'Aplec del Caragol, it is no surprise that snails are a popular dish in Catalonia.
The most common snail varieties that are eaten are the country and garden snail, although nowadays, they are grown at special snail farms throughout the country.