Sitges 2020 points the way to the future of film festivals
In a hybrid in-person and online edition, the festival director called for a rethink of the industry to adapt to a changing world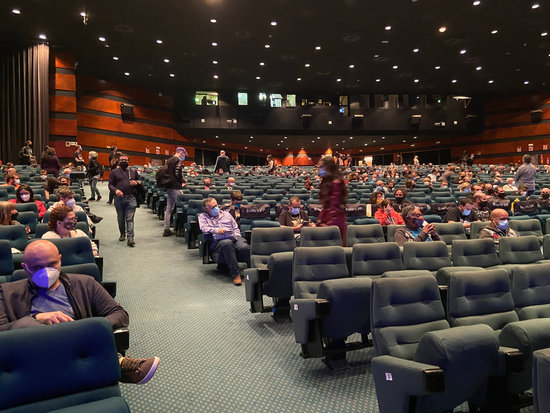 During one of the most unique editions of the Sitges Fantasy and Horror Film Festival ever seen, the festival director, Ángel Sala, made a call for a rethink of the industry.
This year's festival has enjoyed not only by filmgoers in-person but also by plenty of people across the country from the comfort of their own homes, thanks to a special online programme offering over 150 titles.
Under the context enforced by the pandemic, Sala pushed for the idea of using technology more effectively to produce, distribute, and screen new movies. He wants the culture and audiovisual sector to use this important moment to refresh ways of working and take a step forward.
"We need to sit and plan out a new map for the audiovisual sector and make it coherent with new platforms, find new ways of distribution and production," Sala said at one of the conferences during the festival. "We have to make this work for the new generation that's growing up."
Parallel activities
Screenings in cinemas in the seaside town of Sitges itself were reduced this year, and there were also an extended set of parallel activities running alongside the screenings.
The PUCK Cinema Caravan offered free movie screenings for children, while there were also story-telling sessions for young fans as well.
In addition to screenings, 2020 saw an extended programme of talks and presentations. Some 15 presentations of books and comics took place.
Teaming up with the Caixa Foundation, there was also a repeat of last year's free online film workshops, with resources made available for teachers and families.
A 'Fantàstic Street Art' session and Schools Exhibition were also held.
However, what is normally of the most fun aspects of the festival for fans, the iconic Zombie Walk, was called off this year due to the health crisis.
Safety measures
Many of the hallmarks of the festival were still in place, such as red carpet walks and arrivals of big stars, and talks, discussions, and press conferences.
However, many aspects of the festival were different this year. As has now become a common sight across society, face masks were obligatory, hand gel dispensers were to be found at every turn, and capacities in theatres were capped initially at 70%, but this was reduced to 50% after the government brought in new measures to curb the spread of the virus.
Attending a screening this year was different too, as filmgoers were urged to keep distances between one another especially when entering and leaving theatres, as this is the point at which crowding was most likely occur. As well, no food or drink was allowed inside, meaning fans didn't get to snack on any popcorn this year.
Lynch receives Grand Honorary Award
US filmmaker David Lynch, known for classics including 'The Elephant Man' or 'Mullholland Drive', received the Sitges Fantasy and Horror Film Festival's Grand Honorary Award on Sunday as the festival's 53rd edition came to end.
Unable to attend an in-person awards ceremony due to the Covid-19 public health crisis, Lynch thanked the organizers from his home in Los Angeles.