Second 'No Surrender' festival a smash hit
Over 1,000 musicians perform rendition of Bruce Springsteen's 'Badlands' at event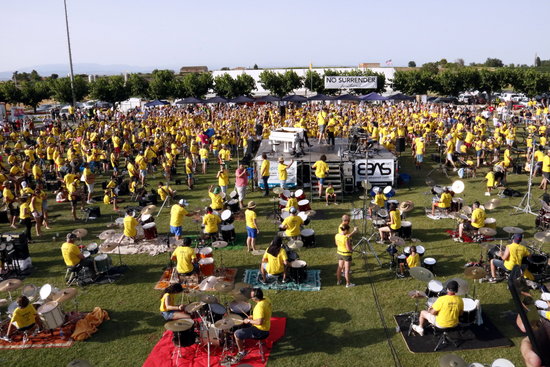 The Boss, sung by over 1,000 musicians. The No Surrender Festival has proven to be a smash hit once again. Over 5,000 people gathered at Vilanova de Bellpuig in the musical event paying homage to Bruce Springsteen.
The climactic moment came when a total of 1,083 people performed a rendition of rock classic 'Badlands,' all conducted by one man, which was recorded on video.
People came from countries such as the United States, Italy, France, Germany and Kingdom to take part in the event. Josep Maria Pons, the organizer of 'No Surrender', stressed the greatness of the festival.
Indeed, for a matter of days, the population of the village in western Catalonia is quadrupled for the days which 'No Surrender' takes place.
"We have managed to create a loyal audience and a record of musicians involved in a natural and spontaneous way. We know that people have enjoyed it and that is our greatest satisfaction," Pons said.
Culture
While dedicated to an international artist, the two day festival is also a chance to immerse oneself in Catalan culture – especially the food. Providers for the event are exclusively from the area, and there's a strong emphasis on ecological products.
While the highlight of the festival is the group song, headliners also include the most well-known Springsteen cover band in Europe, called 'The Blood Brothers.'