Rubén Blades, Juan Luis Guerra, Jack White and Duran Duran to perform at 2022 Cruïlla Music Festival
Barcelona event to return to its pre-pandemic format in July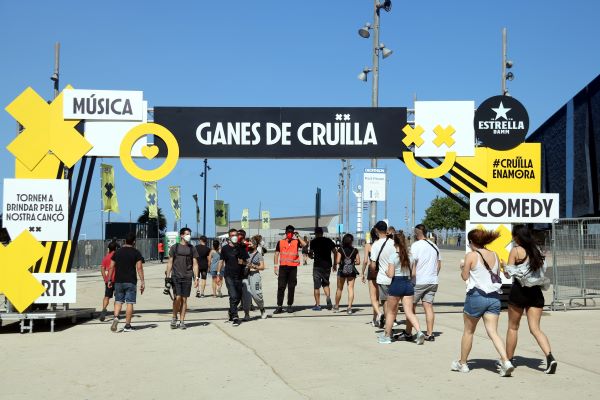 The Cruïlla Festival line up for this summer has been released, with some big-name headliners to be found, as announced by the event's organisers this Wednesday.
On Saturday July 8, former White Stripes guitarist and singer Jack White, and 80s group Duran Duran will be the main acts, whereas on Sunday the festival takes a hispanic turn with Dominican musician Juan Luis Guerra, Panamania Rubén Blades and Spain's own Rozalén at the forefront.
In all, Cruïlla added 21 more names to the line up today.
This is in addition to the artists that had already been announced, such as Residente, a Puerto Rican rapper; English synthpop band Hot Chip; German techno marching band Meute; and Kiwi seven-piece Fat Freddy's Drop.
This international selection of artists makes a change from last year when travel restrictions forced organizers to focus more on Catalan and Spanish acts.
Nonetheless, within the line up there are still some Catalan musicians, notably Buhos, a rock group from the coastal town of Calafell; Elefantes, a band formed in Barcelona in 1994; and lockdown sensation Stay Homas.
The director of the festival, Jordi Herreruela, also announced that it would return to its 2019 format, without stringent Covid measures and with four days of activities. "Our idea is to make a normal festival without masks or testing".
However, capacities are going to be limited, notably 15,000 seated and 25,000 per day.
Originally seen as the spring event's little sibling, the Cruïlla Festival has grown to be a good medium-sized festival with a focus on popular music, popular with locals and tourists alike.
Organizers also added that there are still artists to be announced, and attendees should expect to see some comedy there as well.
The budgest for this occasion is €6 million, 75% self-funded, 22.5% by sponsors and 2.5% from public administrations.
The concerts will be held at Barcelona's Parc del Fòrum, an open-air music venue right on the Mediterranean waterfront.
It is due to take place from July 6 to 9, with tickets starting at €27.50 for a Wednesday adult day ticket and topping out at €315 for a full premium ticket.