Orfeó Català delights Luxembourg audience as it wraps up first post-pandemic tour
Choir founded in 1891 performs Puccini's Messa di Gloria under the direction of Gustavo Gimeno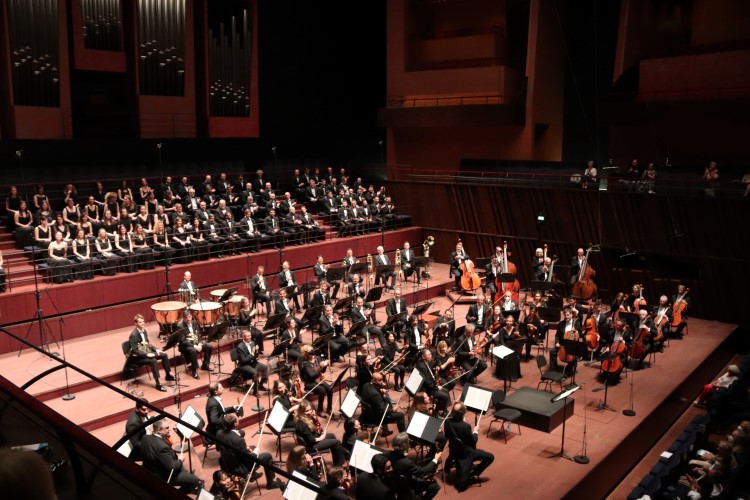 The Orfeó Català has completed its first international tour since before the pandemic, receiving a warm and lengthy ovation from the audience in Luxembourg on Saturday, following concerts in Barcelona and Paris.
The choir, a cultural institution in Catalonia, performed Puccini's Messa di Gloria at the Philharmonie Luxembourg, along with the Luxembourg Philharmonic Orchestra under the direction of Valencian conductor Gustavo Gimeno. Tenor Charles Castronovo and baritone Ludovic Tézier were the soloists.
The tour began on Wednesday with a home concert at the Palau de la Música in Barcelona, followed by a performance at the Théâtre des Champs-Élysées in Paris on Thursday.
The concerts marked the first time since the outbreak of Covid-19 that the ninety singers of the choral society were able to perform without wearing masks.
"Very special concert"
"It's a very special concert," said Pablo Larraz, principal conductor of the Orfeó Català. Guest conductor Gustavo Gimeno conducted the choir for the first time, with Larraz convinced they have already formed "a very beautiful relationship".
The 1400-strong Luxembourg audience gave the choir and orchestra an ovation lasting almost five minutes at the end of the concert, with special applause for the orchestra leader Philippe Koch, the violinist performing his last concert with the Luxembourg Philharmonic.
In contrast, it was the Orfeó Català's first time performing at the Philharmonie Luxembourg, the contemporary surroundings of the 2005 concert hall markedly different from the choir's home at the Palau de la Música, designed for the choir in the Catalan modernista style by Lluís Domènech i Montaner and built between 1905 and 1908.
Ambassadors of Catalan culture
The tour has seen the Orfeó Català – founded in 1891 – "take one more step" on the international classical music scene, the general director of the Palau de la Música, Joan Oller, told the Catalan News Agency (ACN).
"We want to take on the role of ambassadors of Catalan culture and, at the same time, it is an artistic challenge for singers to be able to offer this repertoire on international stages," he said.