Only 5% of tourists know that Game of Thrones was filmed in Girona
Four years after a scene from the biggest TV series of the century was filmed in Girona, much has been forgotten…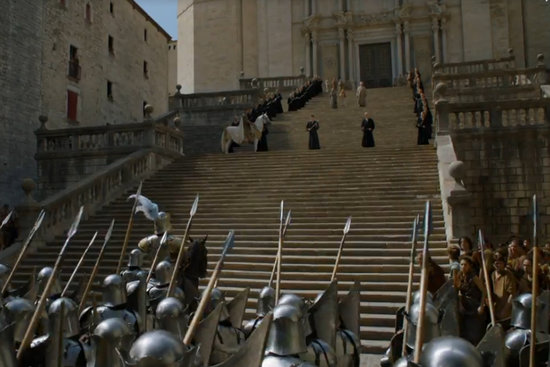 It would be easy to assume that having possibly the biggest TV series ever filmed in your area would reap economic rewards through tourism benefits.
However, four years on from when a scene was filmed in the Barri Vell neighborhood of Girona, it would appear that this is not the case. In fact, 95% of tourists that visit Girona are not even aware that a scene from the show was filmed there, back in 2015.
Girona misses out on economic benefit
Josep Carreras, president of the Hospitality Association of Girona, has conceded that the city has not been able to "reap the economic output" that it ought to have done, and complains that all that remains is the "illusion" that it actually happened.
While he concedes that the first summer was "very powerful" in terms of economic output, attracting tourists from japan, New Zealand and the United States of America, now, the majority of tourists are unaware that it happened.
Carreras attributes this primarily to a lack of "courage" with regards to organising projects and activities related to the series.
He states that three initiatives were put forward to the Council of Girona regarding themed fairs and events on the street, but they did not prosper. "We had potential, and needed the funding of administrations and organizations, but we did not know enough".
Interest appears to be dropping following final season
While vice-president of the Tourist Guide Association of Girona, Cristina Caravaca, has stressed that guides "always" explain that it was filmed there, tourists get "goosebumps". However, this demonstrates that there is not any initial interest that is drawing tourists to the city, but rather that it is an unexpected discovery upon exploring it.
And with the series having finished, Caravaca laments that now, there is "even less interest", and that they are "surprised when someone even asks about it".
Numbers remain stable as Game of Thrones initiatives increase
Nevertheless, deputy mayor of economic promotion in the city, Glòria Plana has argued that there are activities in the city specifically related to the series, "creating resources and enabling visitors to see where the series was filmed."
According to recent data, the number of tourists every year that ask specifically about the filming of the series is stable at around 800-900.
The city has also implemented monthly trips outlining a route through the locations used in the sixth season of the American production.
Plana also outlines that as well as the tourist guides, the city has developed merchandise and edited a map of the old quarter with images of the series.
Finally, the deputy mayor adds that from the private sphere, people have started their own initiatives, including creating dishes inspired by the series or Jordi Roca iscripe inspired by Jaime Lannister.