Nightclubs eye up transformation to offer afternoon cultural events and street activities
Head of Barcelona nightclubs association says one positive scenario would be reopening in July with conditions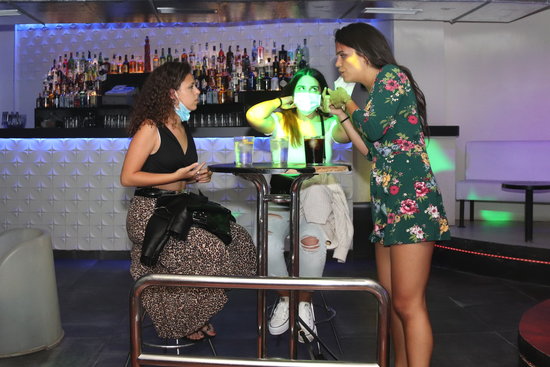 The nightlife sector is calling for changes to the regulation that governs their activity to allow them to be able to use their rooms and spaces for cultural events outside of typical nightclub hours.
In addition, the industry is hoping to be able to offer street activities and make use of hours in the afternoons.
Current regulations stipulate that such businesses must be closed for at least 12 hours in the day, meaning that holding morning or afternoon concerts are impossible if the club is to stay open late that night, and this is something that sector leaders are hoping to change.
"Our spaces must be reconverted, they must not only be spaces for dancing and for selling a very closed type of leisure, but other cultural activities can be done there too. We want to do everything," Ramon Mas, secretary-general of the Barcelona Nightclubs Association explained to the media.
He wants the regulation altered to breathe fresh life into the sector after "13 months closed" due to the Covid-19 crisis, and calls for the government to reduce the mandatory closing time to just six hours per day.
Mas made the comments in a press conference which revealed the findings of a study undertaken by the TBS business school, which proposes alternatives such as boat parties, hotel rooms, or allowing groups to rent premises by the hour.
The association head announced that he saw it as a positive scenario to be able to reopen in July with limitations such as reduced capacity and other safety measures.
However, he also listed two more possibilities, both with a more "negative" impact on the sector than opening in July. Mas spoke about the possibility of reopening in October, but "with more capacity."
The third scenario would see nightclubs remain closed until early 2022, which would be "catastrophic" for a sector that employs 37,000 workers directly.
The pandemic has offered nightclubs the chance to "reflect" on its modes of operating, and they want to make it clear that "nightlife is culture."
One of the lines of business that could be explored would be that "the promoters themselves could do activities on the street with a schedule that would not bother the neighbours," Mas proposed, with a bar installed and music playing on streets.
To make these changes possible, it is necessary to modify regulations related to timetables, something that is in the hands of the government. Another regulation that also makes it difficult to open new modes of activity is that of terraces, which are ruled by municipal authorities.