Newly finished Sagrada Família towers light up for first time
Two of four towers dedicated to Evangelists were completed ahead of schedule in November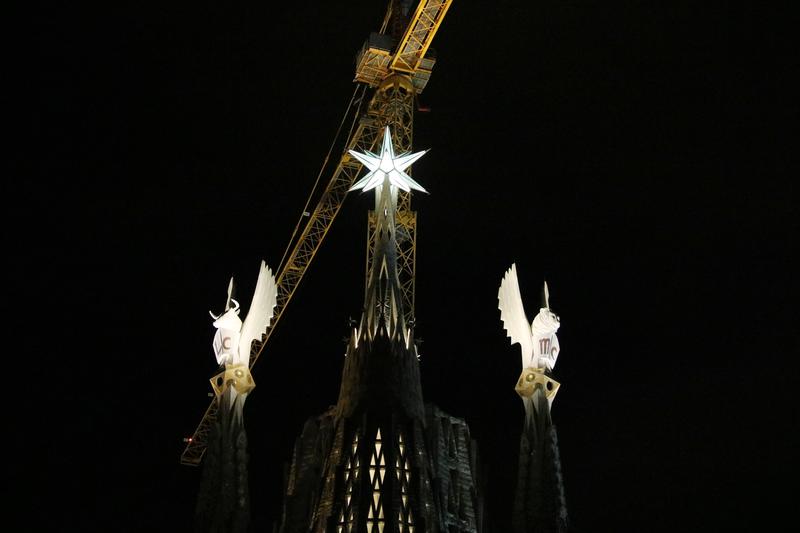 The two most recently completed towers of the Sagrada Família lit up the Barcelona skyline for the first time ever on Friday night.
The towers dedicated to Luke and Mark, two of the four towers that will be made in honor of the Evangelists, were completed in late November, slightly ahead of schedule.
They are topped with enormous magnificent sculptures of a winged Ox and a winged lion. When construction is finished, the four Evangelist towers will be equally the third-tallest parts of the basilica.
Mark and Luke's towers measure 135 meters in height, three meters shorts than the 138-meter-tall Virgin Mary tower, while the central pillar in honor of Jesus Christ will be 172.5 meters tall - a precise measurement to not overtake the height of the Montjuïc hill.
At the traditional Christmas concert on December 16 in the basilica, visitors got to gaze up at the new towers illuminated for the very first time. The towers will be lit up every evening until January 8, from 6-10 pm.
During the Christmas period, the Nativity facade, the Adoration of the Shepherds facade, and the Adoration of the Kings facade will also be lit up for visitors to enjoy the stunning detail.
The Sagrada Família is currently focusing its efforts on completing the central towers, delegate president of the construction board, Esteve Camps, explained. He added that at the end of 2023, they expect to complete the towers of Matthew and John, thus completing the set of the four Evangelists.
The four Evangelist towers feature a tetramorph figure at their summits, figures from Christian iconography. Luke's tower is topped with a statue of a winged ox and a book, Mark's is a winged lion and a book, Matthew's will have an angel, while John's will feature an eagle.
The forecast is to complete the central tower of Jesus Christ in 2026, coinciding with the centenary of the death of Antoni Gaudí and the celebration of Barcelona as the World Capital of Architecture.