National Culture Awards 2020: the winners and their achievements
Top Catalan honor goes to comedy trio El Tricicle, filmmaker Carla Simón, and singer Maria del Mar Bonet, among others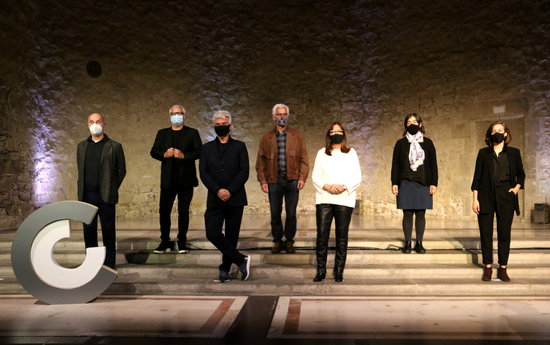 In a year when the coronavirus pandemic has hit the arts sector particularly hard, Catalonia's National Culture Awards laureates include an array of young talent, veteran staples of the entertainment industry, and projects helping people come together, as well as finding a room of their own with a window of wonderful views.
As announced on Monday by Catalonia's National Council for the Arts and Culture (CoNCA), the 2020 awards will be conferred to Mallorcan singer Maria del Mar Bonet, blooming filmmaker Carla Simón, legendary comic trio El Tricicle, the grassroots music project Xamfrà, and the Centre d'Art i Natura residency in the Pyrenees.
By reducing the number of laureates from ten to five, the CoNCA aims to make the awards more prestigious, and recognize each recipient with a year-long campaign to promote their work, along with an additional €15,000 prize.
Since its first edition in 1995, the National Culture Awards have recognized figures of the likes of sculptor and painter Antoni Tàpies, opera legend Montserrat Caballé, chef Carme Ruscalleda, and writers including Jaume Cabré, Quim Monzó, and Miquel Martí i Pol.
Here's a brief summary of who this year's award recipients are and their achievements.
Maria del Mar Bonet: Mediterranean chanson
Born in Palma de Mallorca 73 years ago, Maria del Mar Bonet and her haunting voice have become a totemic and revered presence in Catalan music, with a career spanning over five decades and countless recordings. Throughout her career, she has stayed true to her Mediterranean roots, often incorporating elements from all corners of the sea into her songs. At the onset of her career in the 1960s she joined Catalonia's Nova Cançó singer-songwriter movement, which included figures such as Joan Manuel Serrat or Lluís Llach. Bonet's songs remain ingrained in Catalonia's collective memory, be it with protest song anthem 'Qué volen aquesta gent' experiencing renewed popularity during the independence push, or with pop band Manel recently incorporating a sample of Bonet's 'Alenar' in their latest album's first single.
Carla Simón's never-ending summer
Unlike some of her fellow awardees, Carla Simón receives the National Culture Award not at the end of a long and successful career, but at the beginning of it. Aged 33, her debut in movie theaters came only three years ago with 'Estiu 1993' (Summer 1993), the subtle and heartfelt tale of a six-year-old girl coming to terms with her mother's death, based on Simón's own life story. In the 2018 edition of Spain's Oscar-like Goya awards, Simón won big Best Film, Best Director, and Best Screenplay, with 'Estiu 1993' also earning Best Secondary Actress and Best Film Editing.
El Tricicle
Joan Gràcia, Carles Sans, and Paco Mir are the three wheels that have kept El Tricicle (The Tricycle) going for 40 years. Writers of immortal sketches that live on as day-to-day humorous memes for millions of Catalans, the comedy trio brought mime and physical theater to stardom thanks to their popular TV appearances and shows that could fill 15,000-strong arenas—although none of their performances attracted an audience as large as the one they enjoyed at the closing ceremony of the 1992 Olympic Games in Barcelona.
A room of your own, with a view of the Pyrenees
Located in the tiny town of Farrera, in the Catalan Pyrenees, the Centre d'Art i Natura (Catalan for Art and Nature Center) welcomes artists and researchers longing for a room of their own where they can focus on their work while enjoying some of the best views that Catalonia has to offer. CoNCA has recognized the project for its "extraordinary educational task."
Bringing people together through music
Xamfrà is an educational project for children from Barcelona's El Raval neighborhood, as well as at-risk groups including unaccompanied migrant minors or victims of gender violence. According to its founder, Ester Bonal, "Xamfrà is not a music, dance or theater school, but a socio-educational project working with arts in a cooperative manner, and which provides a non-segregated space so that everybody can practice art."