Montserrat boys' choir to perform in US
L'Escolania de Montserrat will visit Minnessota and Pennsylvania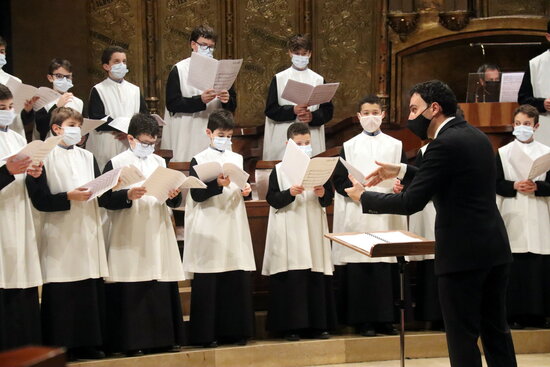 The Montserrat boys' choir, L'Escolania de Montserrat, will soon be embarking on a United States tour across two different states. The 45 boys, nine of which only started singing this year, will perform in Minnesota and Pennsylvania in November as part of a trip that was supposed to take place before the Covid-19 pandemic.
The boys will be in the United States from November 8 to 18, stopping in Minnesota where they will sing at Saint John's Abbey, a Benedictine monastery in Collegeville Township on November 10. On Sunday 13 the group will take part in the mass service and perform in Minneapolis on Friday 11.
After spending some days in the midwestern state, the choir will travel to Pennsylvania where they will sing at Saint Vicent's Archabbey, an hour away from Pittsburgh.
L'Escolania de Montserrat has also been performing across Catalonia in 2022 and again in 2023. Children will sing in Barcelona on December 16, and again at the Palau de la Música music hall on May 7, in Montserrat on May 14, and in several other locations around the territory.
Escolania's long-history
Escolania boys' choir is one of the crown jewels of the multi-peaked mountain range. The group dates back 700 years and has evolved into a top-notch music school for kids aged 9 to 14, recognized by the BBC as one of the world's top ten choirs.
Two students at the Escolania, 12-year-olds Pol Caro and Albert Folch explained to Catalan News back in 2021, how it was to spend the week at Montserrat, which has a boarding school and go home for the weekend to spend time with their families.
Their main tasks consist of singing at the daily mass, with their catalog including hundreds of music compositions spanning centuries. The most famous of all, often referenced in popular culture, is the 'Virolai', dedicated to the black Madonna.
Learn more about Montserrat's choir by listening to our Filling the Sink podcast episode published on May 2021.