Montserrat boys' choir perform in Australia for first time
L'Escolania de Montserrat gave concerts on March 3, 4 and 5 as part of 2023 Adelaide Festival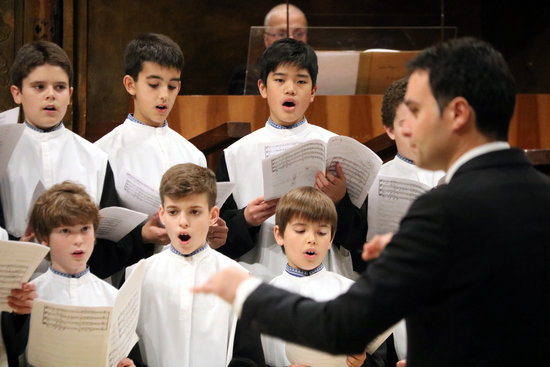 The Escolania de Montserrat – the famous boys' choir based in Santa Maria de Montserrat Abbey – took part in the 2023 Adelaide Festival of Arts, the first performances in Australia in the choir's history, which stretches back seven centuries.
Llorenç Castelló directed 36 choristers for the three concerts on March 3, 4, and 5 at Adelaide Town Hall.
"It has been an extraordinary and spectacular experience performing in Australia," representatives from the abbey said.
The choir performed a selection of its classic repertoire, with several pieces of popular and traditional Catalan music, such as l'Ametller (The Almond Tree), a setting of a poem by Joan Maragall.
The concerts were "very well received by the Australian public," the abbey said, and reviews praised the "heavenly voices" and disciplined, free, beautiful" singing.
The Escolania plans to return to Catalonia on Thursday and will take part in an open day on Sunday 12 March.
The young choristers of the Escolania recently traveled to the United States, performing in Minnesota and Pennsylvania in November 2022.
The Adelaide Festival is an annual celebration of the arts that began in 1960, including opera, theater, dance, classical and contemporary music, literature and visual arts.
Sacred singing
The boys' choir is based in Montserrat, a rocky mountain range that rises from the plains of central Catalonia. The holy mountain is home to La Moreneta, the Virgin of Montserrat, and the ancient Benedictine Abbey where the choir performs twice daily.
In 2020, the BBC Music magazine named the Escolania de Montserrat one of the 10 best choirs in the world.
The abbey has faced calls to allow girls to join the choir, but for now insists on maintaining its tradition of boys only.
Listen to the podcast below to learn more.