Miró tapestry restoration on public display at Barcelona art gallery
Process undertaken by 'la Caixa' foundation will take one month, with the work staying for at least one more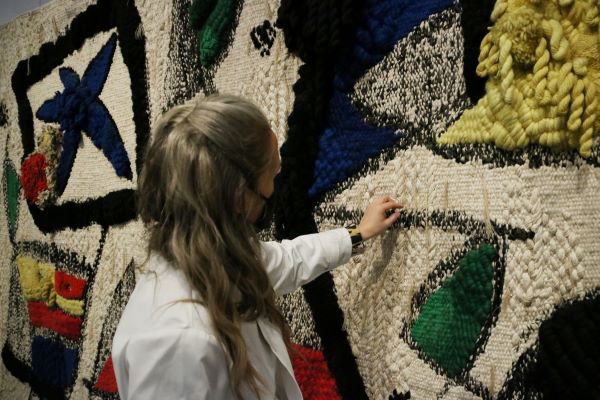 A tapestry made by celebrated Catalan surrealist artists Joan Miró and Josep Royo is being restored, with the entire process being on show for guests to witness at the Caixaforum art gallery in Barcelona.
Until Monday, the tapestry was in the Caixabank financial institution's headquarters on Barcelona's Diagonal Avenue.
The restoration is being carried out by the 'la Caixa' banking foundation, and is due to take four weeks.
In this way, visitors of the gallery will be able to see first hand the conservation and restoration processes for works of art, whilst also having the opportunity to learn more about Miró and textile art.
The repairal will take a month under the supervision of La Caixa's conservator Anna Vila and restoration specialist Marina Blanch, but the intention is that the tapestry stays in the museum for at least one more month before returning to its home on Diagonal.
Caixaforum attendees can also see the process take place before them for free, although they need to book an attendance slot beforehand.
Although the restorers have done this many times, they consider it refreshing to be able to show off a piece that is normally kept "hidden" from the public.
The tapestry is only one of seven made by the artist at the end of his life that are on public display today.
The main aim of the conservation is to preserve the vivid colors of Miró's work.
Despite being 40 years old, the tapestry is in relatively good condition, according to the curator.
The display case that has been protecting it up to this point will also be updated, with a brand new one being designed.
The tapestry
Miró created this large 5 meters wide by 2 meters high tapestry weighing 200kg in 1980, commissioned by 'La Caixa'.
The institution sought to merge its financial branch and social work and went to the Catalan artist to find a new corporate image.
Studying the work of German brand designer Walter Landor, Miró presented the hanging, with a five-pointed star and yellow and red dots which have since become the bank's official logo.
In its lifetime it has also lived in Casa Macaya Cultural Center (the former headquarters of the financial institution) and before moving to the Science Museum, now known as CosmoCaixa.
Not the only new Miró exposition
The Joan Miró Foundation museum dedicated to the artist will host an exhibition from Thursday called Miró. The Most Intimate Legacy, showcasing 59 new works yet to be displayed in the Montjuïc gallery
Born in Barcelona in 1893, Miró achieved international acclaim for his surrealist work with his own personal style, occasionally straying into other modernist styles such as Fauvinism and Expressionism.