Memories of the only Catalan who created an East Side Gallery mural on Berlin Wall
Ignasi Blanch astonished that his life-changing work is still standing in open-air gallery as reunited Germany turns 30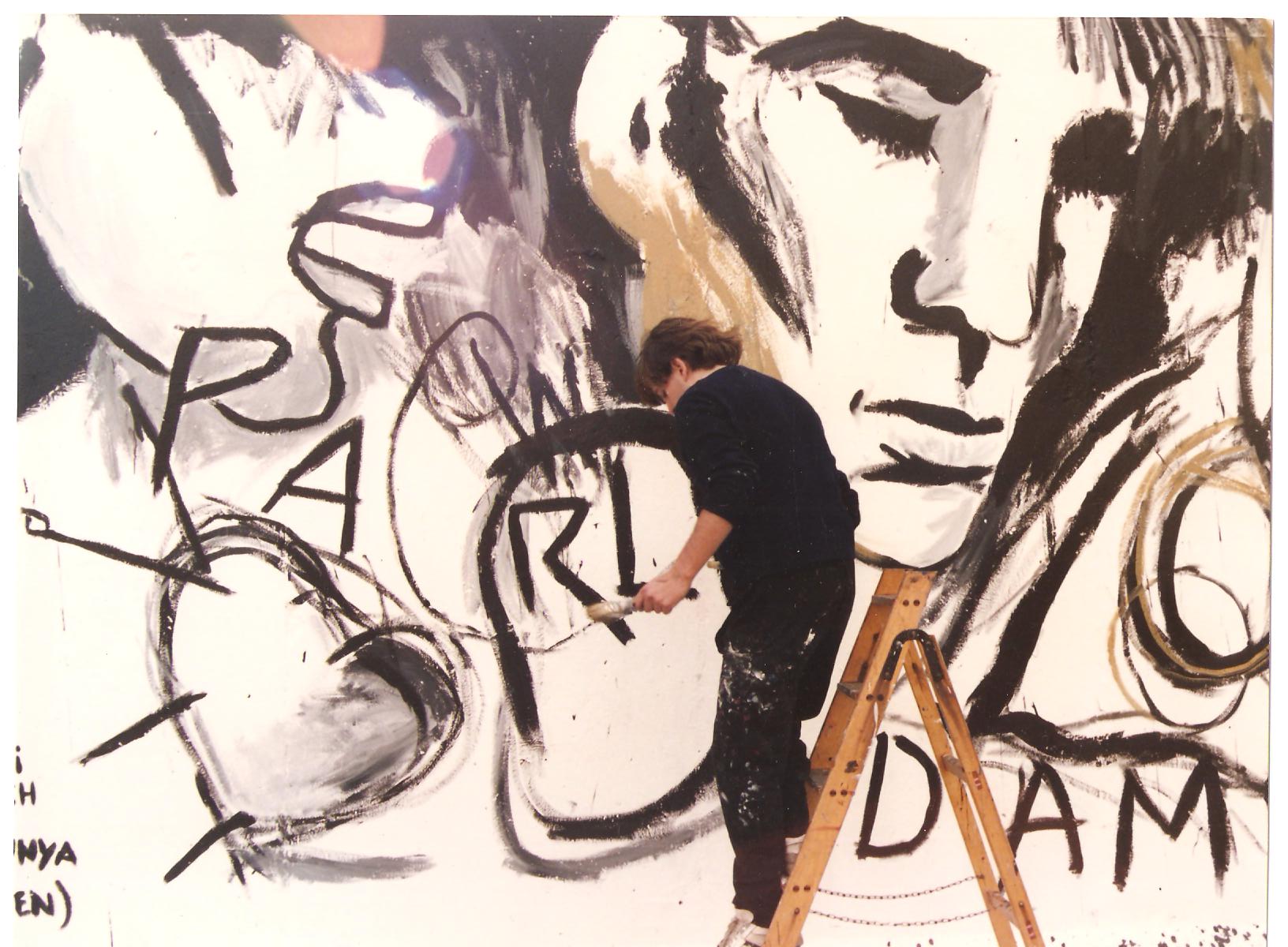 October 3, 1990: Germany's two parts, separated after the Second World War, were reuniting – or the East was joining the West – four decades later. A few days earlier, an open-air gallery stretching 1.3 kilometers on the Berlin wall had been inaugurated.
Called East Side Gallery, over a hundred artists from around the world were involved – and among them, the only Catalan, or Spaniard, to contribute with a mural was a young artist from the Ebre river region, Ignasi Blanch.
Part of history by chance
Three decades later, he still recalls that life-changing opportunity with excitement. "It is one of those good things in life that have helped me be happy," he says in an interview with Catalan News.
He ended up participating by chance because he happened to be in Berlin pursuing his art studies when the wall collapsed on November 9, 1989.
A few months later, he saw a public ad calling for artists to take part in the making of the East Side Gallery. They had to have lived in Berlin at that time and have witnessed the historic event that had taken place slightly under a year earlier.
"I used to apply to everything, I was very young, full of energy and excitement," he says nostalgically. "I still don't know why I was chosen," he says, laughing.
Yet, when he painted his mural, he thought it would be "short-lived" and would only last weeks or months because many other art projects were also in motion at that time.
"I never thought it would last 30 years," he emphasizes.
1980s West Berlin's 'alternative vibe'
Blanch still remembers the 1980s West Berlin atmosphere that attracted him. "There were artist communities, pacifists, feminists, homosexuals... There was an alternative vibe aiming to renew society," he says.
As for the Mauerfall, he is still shocked at the emotions he witnessed, "especially seeing men crying."
It was both "intense and sad" to see people from the East crossing the border and buying fruit like oranges and bananas because they did not have access to them in the GDR.
"People in their [iconic East German car] Trabis were going to the West, where the two worlds began to mix," he recalls, adding that capitalism and communism clashed at that moment.
'Parlo d'amor' (I talk about love)
His 1990 work, 'Parlo d'amor,' or I talk about love, represents the freedom of love and describes his love for Catalan culture – its title is in Catalan – and for Berlin.
Three male faces are displayed, as are three colors, which Blanch believes are linked to Berlin: "White, the color of snow; grey, for coal and the chimneys we used to use to keep warm; and the color of autumn, when the city is gorgeous."
Restored three times
The artist has restored the mural three times, the last of which was in 2009 when something else remarkable happened to him: he met Olivia Newton-John.
"I met her at a private event I managed to attend and I gave her one of my books," he explains. "The next month, she sent me a thank you letter."
They have been in touch ever since, are now friends, and have even worked on a project together:a book-album called 'LIV-ON'.
Paintbrushes saved
Unlike 30 years ago, he is now fully aware that 'Parlo d'amor' is and will be part of Berlin's heritage, which is why he still keeps the three paintbrushes he used as well as some souvenirs that were made from it.
The event to mark the 30th anniversary with the still-living artists has been canceled due to Covid-19 – yet, the cover of the booklet with the program of events is an image of himself and his companion Àngel Burgas carrying pots of paint to the wall in 1990.
Future
Ignasi Blanch believes the future of 'Parlo d'amor' is guaranteed because the East Side Gallery, visited by over three million people every year, is now considered to be part of Berlin's cultural heritage.
However, he warns that the area is set to change, with new flats and offices in the works, and he can see the murals being moved. "The economy is sometimes, or always, stronger than art."