Maribel Verdú, Javier Botet, and Charles Band pick up Sitges Time Machine Awards
Festival director says fantasy genre "probably speaks better about reality" than "other, more realistic genres"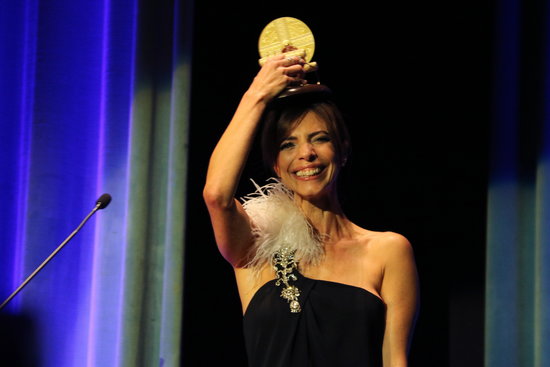 Maribel Verdú, Javier Botet, and Charles Band have all been awarded with the prestigious Time Machine Award, recognising their prolonged and brilliant careers in fantasy and horror cinema.
Verdú is celebrating more than thirty years in the Spanish film industry, and is in Sitges for the screening of her latest film, 'El asesino de los caprichos.' The 'Pan's Labyrinth' star was visibly emotional upon reception of the award, and highlighted to the audience how much the award meant to her.
"It gives me great confidence and suggests maybe I'm not doing so bad after all," she quipped, while also going on to explain her regret for not having been able to visit the Sitges Film Festival is past years.
"This profession can be as wonderful as it is hard, and the passage of time gives you more experience, but far from scaring you and making you insecure, it makes you more aware of them," she said in tears.
Javier Botet, whose latest movie 'Amigo' is screening at the festival, was recognized for his vast array of work, which includes acting, directing, and writing. For 'Amigo,' Botet co-wrote and starred in the production.
After receiving the award, he pointed out that everything he has done in his career has been intimately linked with everything that the Sitges festival loves.
American director and producer Charles Band was also in the seaside town south of Barcelona to pick up a Time Machine Award for his contribution to the fantasy and horror genre of film.
Band had a full day of activity in the town on Saturday, between interviews, talks, and kicking off the annual Zombie Walk. He is perhaps best known for his work in the 'Puppet Master' franchise.
Fantasy speaks better about reality
Director of the festival, Àngel Sala, also spoke about the fantasy genre in a gala at the film festival. He mused that fantasy films "probably speak better about reality these days than other genres that are more realistic."
Sala made reference to the short film 'Reality' that screened prior to 'In the Tall Grass.'
'Reality' was produced by Chicho Ibáñez Serrador for the youth charity NGO Save the Children, and was directed by Alejandro Ibáñez, starring Lydia Bosch.
Chicho Ibáñez Serrador presents his latest production, a new chapter of the mythical series 'Stories to Keep you Awake.' With 'Reality', he wanted to join the 'NO to the war against childhood' campaign.