La Caixa foundation and British Museum sign new joint agreement
Two institutions will continue to work together putting on new exhibitions in CaixaForum centres between 2020 and 2024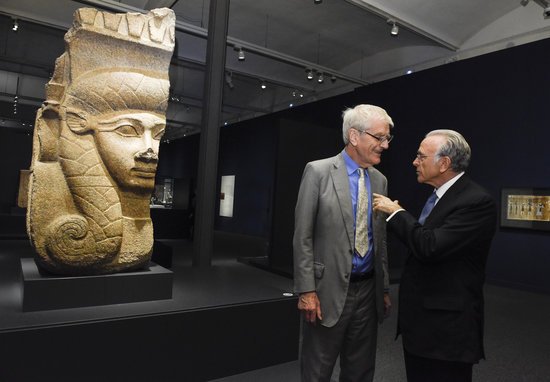 Catalonia's La Caixa Banking Foundation and the UK's British Museum signed an agreement on Friday that will see the two institutions work together between 2020 and 2024.
Isidre Fainé, the president of La Caixa Foundation, and Sir Richard Lambert, chairman of the British Museum, signed an accord that will see items from the collection of the UK's national museum displayed in the CaixaForum centres that the foundation has around Spain.
The agreement includes five new projects that will be exhibited in the CaixaForum centres in Madrid, Barcelona, Sevilla, Zaragoza, Palma and, from 2021, in Valencia.
All the material on display will come from the British Museum, with the first exhibition in the agreement due to run from 2020 to 2022. 'The human image' will provide an overview of how the human body has been represented throughout history by different cultures.
Meanwhile, 'The American Dream' will cover 60 years of US history through the work of essential American artists like Andy Warhol, Jasper Johns, Robert Rauschenberg, Ed Ruscha, Kara Walker and Julie Mehretu.
The third exhibition focuses on the creativity of inhabitants of the Pacific islands, showing the relationship between art and life in Oceania. The role of 'Goddesses' in various religions, and a project on 'Egyptian mummies' are the themes of the other two exhibitions in the agreement.
Friday's agreement opens a new stage in the cooperation between the two institutions that began in 2015, when they first agreed to jointly organize exhibits in Spain. Since then, the British Museum has become one of La Caixa's most significant contributors in its exhibitions devoted to the world's great cultures. An example is 'The pillars of Europe. The Middle Ages in the British Museum', shown in 2016 and 2017, while the most recent is 'Pharaoh. King of Egypt', which opened recently in Barcelona. In all, 480,000 people have visited the different exhibits.