Kazushi Ono bids farewell to Barcelona Symphony Orchestra with Mahler's 'Resurrection'
Seven-year stint as principal conductor ends with work carrying message of dignity and "rejection" of violence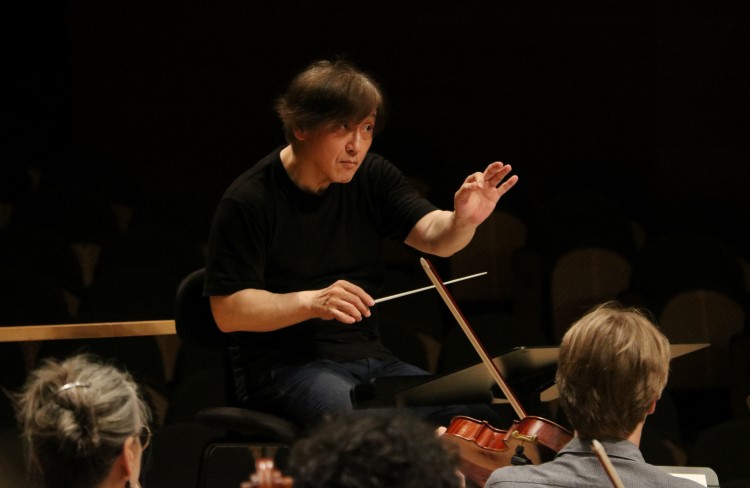 Kazushi Ono conducts his last concert this weekend as principal conductor of the Barcelona Symphony Orchestra and National Orchestra of Catalonia (OBC), after seven years at the helm.
The Japanese conductor will direct the orchestra, the Orfeó Català and soloists Lydia Teuscher and Mihoko Fujimura in a performance of Mahler's Symphony No.2, known as the Resurrection Symphony.
The symphony, he says, has a double meaning today, a "rejection" of violence and an assertion of human dignity.
Ono, principal conductor since 2015, is satisfied with the work he has done with the OBC, saying he has helped the orchestra raise its sound – comparing it to a cathedral or the Sagrada Família – by integrating the many good soloists that make it up.
He has particularly special memories of the orchestra's tour of Japan in 2019, and is especially proud of bringing through a new generation of musicians.
There will be three performances over the weekend at L'Auditori in Barcelona, two evening concerts on Friday and Saturday and a Sunday morning matinee at 11am.
"Happiest musician in the world"
Ono's first concert with the OBC was on September 20, 2015 in the Sagrada Família, as he fondly recalled during a brief farewell ceremony on Tuesday. "I was the happiest musician in the world," he said.
L'Auditori director, Robert Brufau, spoke of the orchestra and conductor's "artistic growth" together and wished Ono luck in his new post with the Brussels Philharmonic, before urging him to return to Catalonia soon as a guest conductor.
Ono also voiced his admiration for some of the contemporary composers in Catalonia with whom he has been able to work, citing the names of Héctor Parra, Fabià Santcovsky, Benet Casablancas and Ferran Cruixent.
New conductor: Ludovic Morlot
The OBC's next principal conductor will be Ludovic Morlot, who takes up his post officially in September, although he will be making recordings with the orchestra in the coming weeks.
Born in Lyon, France, in 1973, Morlot is conductor emeritus of the Seattle Symphony, after eight years as music director. Under his direction the orchestra won five Grammy Awards for recordings, and commissioned works such as 'Become Ocean' by John Luther Adams, a Pulitzer Prize winner in 2014.
He is also an associate artist with the BBC Philharmonic Orchestra.
His contract with the OBC is for eleven weeks a year for four years, during which time he hopes to "explore new formats" in order to "present classical music in a different way."