Exhibition shows Dalí's most transgressive side with Venus de Milo interpretations
Dalí Museum sees artist submerging the classic work in surrealism and Pop art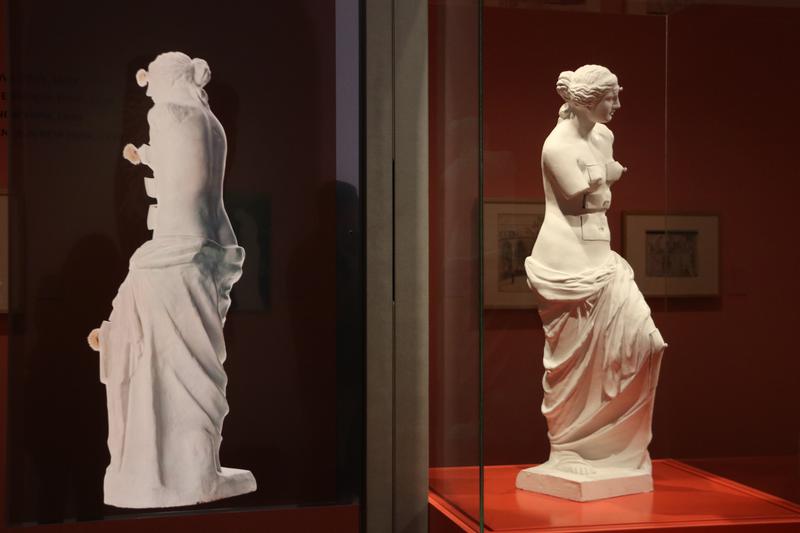 The Dalí Theatre-Museum in Figueres opened a new exhibition that shows the most transgressive side of the Catalan artist, using dialogue between his two interpretations of the Venus de Milo.
Salvador Dalí is mostly known for his surrealistic paintings, but he also experimented with other artistic outputs during his long multifaceted career. The artist was born in Figueres, in northern Catalonia, where the sculptures and other related pieces of work are now temporarily presented in his museum.
In the exhibition 'Transgressing the Venus. Dalí is classic, surrealist and Pop Art!', the Dalí Foundation adds a new side of the world-class painter to their catalogue with the artist's surrealistic and self acclaimed erotic view of the antique work.
Two interpretations
The Catalan artist created versions of Venus de Milo in 1936 and 1964, putting his own twist to the ancient Greek sculpture that is currently in the Louvre in Paris. The first is part of a permanent exhibition in Chicago and was added to the Dalí Museum as a digital loan.
Dalí added bronzes and drawers with pom poms to the sculpture as a way to introduce surrealism into a widely known figure. "Dalí was capable of reinterpreting works with very characteristic elements of psychoanalysis and giving them a new meaning," said Montse Aguer, director of the Dalí Museum.
The work is presented on a hologram, using a transparent OLED screen that portrays the sculpture revolving around itself. This way, the museum pays tribute to the holograms that Dalí created during the 1970s.
The digital loan is a first step towards a more technological future for the museum, which wants to introduce more technology in the exhibition space to preserve original works and create a sustainable way of presenting international loans.
An erotic perspective
In an interview with Playboy magazine in 1964, Dalí explained his second version of the Venus de Milo as a Freudian and Christian appearance in Greek Civilization. "With the addition of drawers it is possible to look inside the body of the Venus de Milo up to the soul," the Catalan artist said.
Dalí had already shown interest in the Greek antiquity during his childhood, when he copied the work in clay for the first time. In The Secret Life of Salvador Dalí the artist revealed that the sculpture gave him "an unequivocal and delicious erotic pleasure" at a young age.
To contextualize the sculptures, the museum added an oil painting, three drawings, 15 photographs, two books, a fragment of the film 'Autoportrait mou' and more to the collection. This way, the Dalí Foundation tries to give the viewer a better explanation of the creative process of the work.
The exhibition can be visited until the autumn of next year in the Sala de les Lògies in the Dalí Museum in Figueres.