Exhibition in Perpignan deals with borders and Catalan independence
Project carried out by students, with some travelling to Catalonia to better understand situation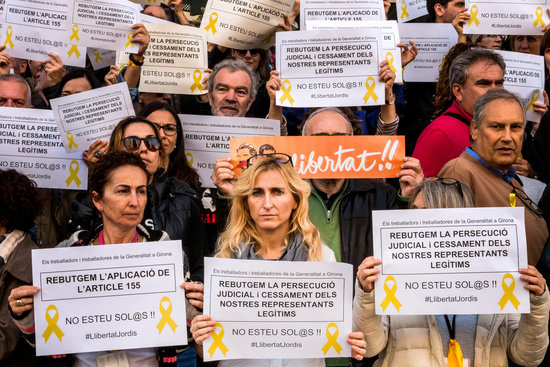 The International Centre for Photojournalism in Perpignan is to open a photography exhibition on Tuesday that will tackle the themes of both borders and the independence process in Catalonia. The Catalan city is, in fact, in what is called Northern Catalonia, on the French side of the border, and it still has some ties to the country's culture. Catalan flags can be seen hanging from buildings, and the local government has even taken various measures to promote Catalan language and culture.
The exhibition, entitled 'Borders', will be made up of 55 images that offer various perspectives on the topic of borders, as well as 126 portraits of students in the area. It is the result of a project that began in 2016, with a total of 250 students from different education centres participating. Topics covered include dealing with customs officials, travelling through the train stations of the border towns Cervera, on French soil, and Portbou, in Catalonia, as well as the Catalan pro-independence process.
Invisible lines
The photojournalist in charge of the initiative, J.C. Milhet, says that the result is a compendium of images that "give a single vision on the borders." He wanted to question where borders were and how they translate both culturally and geopolitically. Some students travelled to the towns of Cervera and Portbou, so close to each other geographically but technically in completely different countries, separated by an invisible line. And even though the space is diminutive, the difference stands out as soon as the line is crossed, when French becomes the prevailing language spoken in the streets.
Understanding Southern Catalonia
Students even travelled to Girona in order to photograph demonstrations in order to address what is going on in the country. They also spoke with politicians and representatives of the Catalan government. "I gave them autonomy because they looked for different points of view and had their own vision of the situation," explains Milhet. In fact, and according to the documentalist at the center, Bénédicte Vincent, some of the participants indicated that before doing the work they did not know that "the situation in Catalonia was so complicated."
Smugglers' run
The role of borders in the trafficking of money, drugs, and tobacco was also tackled. Milhet focussed on tasks carried out by customs officials at borders when dealing with these issues. He stated that the "issue of Catalonia now affects this area more than ever."
Mixed visions
It was difficult to bring together such diverse views on the same concept, acknowledged Milhet, but he says that he is "satisfied" with the result and that "high quality" images have been achieved. "They are different exhibitions that give a single vision on the borders," he insists. 'Borders' opens on Tuesday and will run until March 31.