Emotional first of three final concerts of singer-songwriter Serrat's career in Barcelona
Author of 'Mediterráneo' calls on crowds to face final shows in party mood rather than with sadness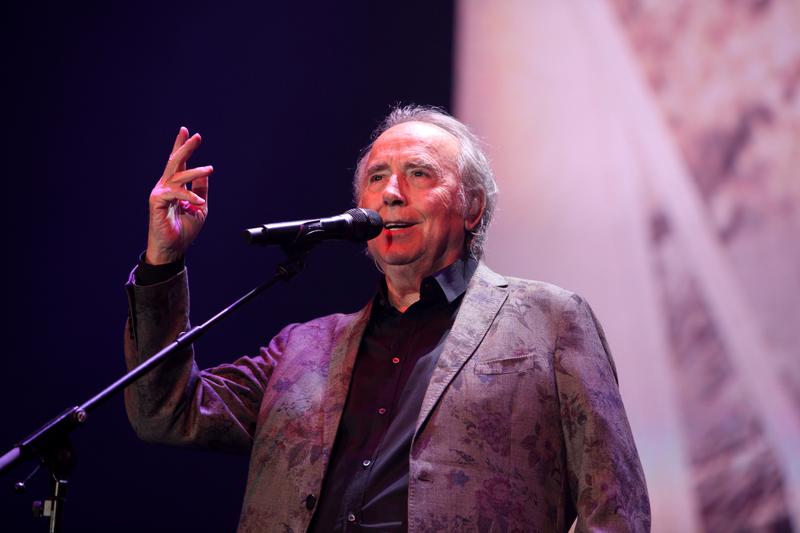 The first of Joan Manuel Serrat's final three concerts of his six-decade-long career was held on Tuesday in Barcelona's Palau Sant Jordi.
The revered Catalan singer-songwriter delighted his fans with some of his classics in both Catalan and Spanish languages, such as 'Mediterráneo', 'Paraules d'amor', 'La tieta' and 'Hoy puede ser un gran día.'
Serrat, 78, decided to no longer hold live performances one year ago, when he announced a farewell tour finishing in his birth town, Barcelona.
He began his last round of gigs in New York's Beacon Theater in April, and will come to a close this week, with the concert held on Tuesday, plus two more on Thursday and Friday.
The world tour has been named 'El vicio de cantar 1965-2022' ('The Vice of Singing', in English) to remember Serrat's long career.
Emotions were running high during his concert on Tuesday night, where 'el Noi del Poble Sec' (or 'The Boy of Poble Sec', the Barcelona neighborhood where he was raised) called on the crowds to face his final shows in a "party mood" rather than with "sadness."
Over 15,000 people could enjoy his gig, which was sold out, as the other two that he will lead later on this week.
Serrat came on stage with a band, a piano and two vertical screens on both sides. He began with 'Temps era temps,' and his show also included 'Cançó de bressol', 'No hago otra cosa que pensar en ti' and 'El meu carrer'.
"I am here to bid you farewell, in person, as the occasion deserves. To say goodbye, but with happiness. I am here to bid you farewell, in person, as it deserves. To say goodbye, but with happiness," he said during the concert on Tuesday night.
Anti-Francoist singer
During the event, he stood up for environmentalism, screened some graffiti art by Banksy and portraits such as Mona Lisa and pictures of the Ukraine war, and remembered the legacy of Spanish poet Miguel Hernández, who died in 1942 while imprisoned by the newly created fascist dictatorship led by Francisco Franco.
Serrat began his career as member of the Setze Jutges group of musicians, who as young people in the 1960s began to sing in Catalan, thus challenging the regime, as its public use was very restricted by the dictatorship – Maria del Mar Bonet and Lluís Llach are other famous singers of this group.