Dreams of award-winning architecture
Celebrated Catalan RCR Arquitectes showcase their plans for the future at the Venice Biennale in an otherworldly installation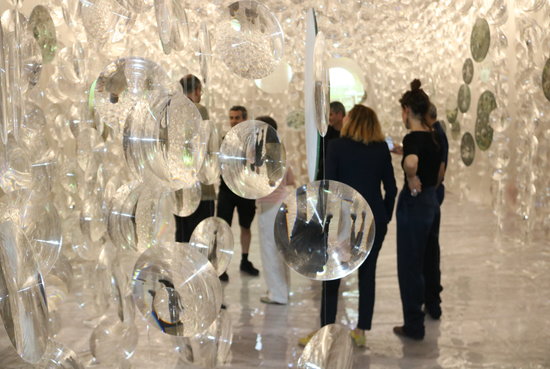 The relationship between Catalonia and Venice goes back to the times of mariners and medieval trade. Now, a new bridge has been built. This time, it looks towards the future, and it comes with the presence of award-winning Catalan RCR Arquitectes at their dreamlike installation at the prestigious Venice Biennale.
Stepping into the two spaces housing the exhibit is like going into another world. Mirrors and transparent disks adorn the walls and hang from the ceiling. The orbs gently flash green, or blue, or red, reflecting light and colors from interspersed round screens, displaying a country estate. The first part, called 'Threshold,' eases the visitor in to the experience. The second, called 'Dream,' is set to reproduce the deepest sleep and the imagination it brings.
The country house is the firm's new project, a research center to be built in an estate in the north of Catalonia. The installation is called 'RCR. The dream of nature_Catalonia in Venice,' and it showcases the thought process and hopes of the three members of the architecture firm – for the future, and regards this venture.
If what's to come is anything like the past, RCR Arquitectes has much to look forward to. The Catalan firm, consisting of creative minds Rafael Aranda, Carme Pigem, and Ramon Vilalta, is the 2017 recipient of the Pritzker Architecture prize, the so-called Nobel in the field. Their work can be found all throughout Catalonia—specifically Olot, where their firm was founded—and abroad as well.
The curators of the exhibit are journalist Pati Nuñez and architect Estel Ortega. Also present was the director of the cultural institute Ramon Llull Manuel Forcano, who explained that this is a "singular" exhibit, one which turns the Catalan pavilion into a "poem." This is the 16th edition of the Venice Biennale, now known as one of the foremost events for contemporary art, dance, architecture, cinema, and theater.