Catalan singer Bad Gyal wins best Spanish artist at 2022 European MTV Awards
Rosalía returns home empty handed after being nominated in five categories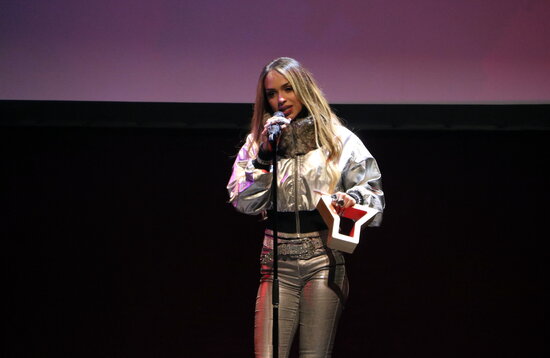 Catalan artist Bad Gyal won the award for best Spanish artist at the 2022 European MTV Awards on Sunday, beating big names such as Rosalía and Quevedo.
It is the first major award for the Catalan singer known for her signature use of Auto-Tune, who started her career back in 2016 and mostly performs Dancehall, EDM, reggaeton and pop songs.
The artist, born in the seaside town of Vilassar de Mar, gained success with the 2016 single 'Fiebre' and received the award after releasing her 2021 album 'Warm Up'. She has been on a roll ever since with recent singles such as 'La Prendo' and also performed at last year's Primavera Sound in Barcelona.
The 25 year-old beat popular nominees in the category: Catalan singer Rosalía, the Canarian Quevedo, the Basques Fito & Fitipaldis and Auryn ex-member Dani Fernández.
After getting nominated in five categories, Catalonia's beloved artist Rosalía returned home without any awards, having to admit defeat twice to American popstar Taylor Swift, who won best artist and best full-length video for her 10-minute version of 'All Too Well', despite her success with 2022 album 'Motomami'.
After losing to Bad Gyal in the best Spanish artist category, Rosalía saw Brazilian singer Anitta walk away with the award for the best Latin artist. Lastly, summer hit 'Despechá' did not manage to win the award for best song, losing to Nicki Minaj with 'Super Freaky Girl'.
Back in 2019, Rosalía won best collaboration at the European MTV awards for hit single 'Con Altura' with J Balvin. Rolling Stone recently named her 2018 project 'El Mal Querer' among the greatest concept albums of all time, giving it the number ten spot on the list.