Catalan Pianist wins first prize at Golden Classical Music Awards
Performances from her second album 'Nimbus' in New York wowed judges for accolade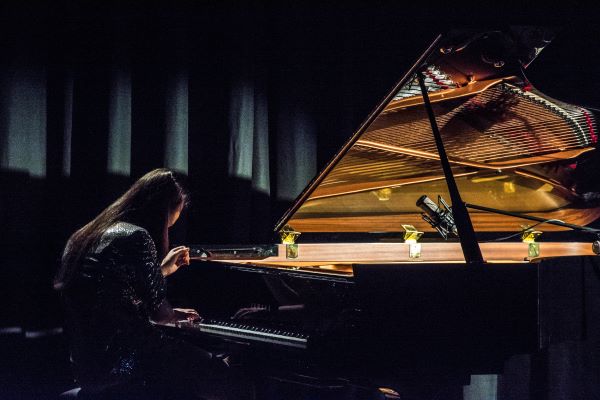 Pianist Laura Farré Rozada is amongst the group of talented musicians who have won first prize at the international Golden Classical Music Awards in the Weill Recital Hall at New York's Carnegie Hall.
Her performance of 'Toccata' by Korean composer Unsuk Chin was one of the pieces from her second album, 'Nimbus', that catapulted the artist to receive a score of over 90, qualifying her for first prize at the competition.
Hailing from Vilanova i la Geltrú, down the coast from Barcelona, Farré Rozada was the only artist from Spain to receive an award, while the rest of the artists acknowledged for their work predominantly came from the United States, Asia, and Australia.
The pianist and mathematician has been deemed a 'Rising Star' by BBC Music Magazine and is currently a PhD candidate at the Royal Birmingham Conservatoire music school.
The international Golden Classical Music Awards aims to discover talented musicians with an "outstanding personality" in the hope of launching their careers beyond the borders of their home country.
The competition is open to all nationalities and ages in strings, piano, wind and vocal.
As a result, it is divided into age categories: Young Musician (8 years old and under), Junior (9 to 12), Intermediate (13 to 15), Advanced (16 to 18) and Senior (no age limit).
Furthermore, chamber ensembles can also enter the contest in one of three categories, Group A (under 12 years old), Group B (13 - 18) and Group C (18 and above).
Consequently, award winners ranged from Thai 4-year-old Tuntouch Muangsiri to Italian 56-year-old Gabriele Galvani.
For Farré Rozada, at 31, this is hardly the first accolade she has been given for her musical prowess, having already received 3 other awards in the United States alone, as well as the 2021 Talent Cambra Award, from the Barcelona Chamber of Commerce.
Having already performed in both Europe and North America, she is set to perform in a number of concerts over the coming months, including five in Catalonia.