Best movies to watch for €3.50 during this week's 'Festa del Cine'
Cinema festival with national and international films from October 3 to 6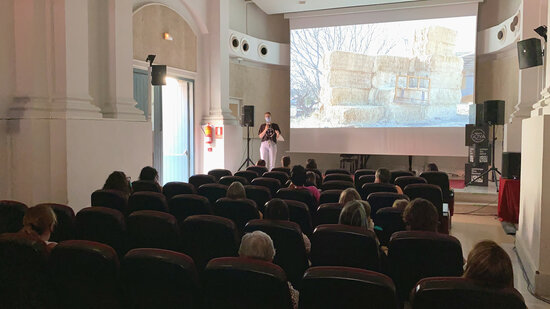 New and classic films will be screened in 59 cinemas across Catalonia, including 17 in Barcelona, from October 3 to 6 to celebrate the 'Festa del cine', an initiative that has been democratizing movies for over a decade by offering viewers a varied and affordable catalog.
Film-lovers can sign up for discounted tickets via the Festa del Cine website, although those below the age of 14 and older than 60 do not need to do this. Once successfully registered, people will receive the accreditation by e-mail and have to show it printed or digitally at the cinema when buying the ticket with an ID.
The Barcelona cinemas participating in this year's event are Verdi Park, Cinesa Diagonal, Cinesa Diagonal Mar, Cinesa Som Multiespai Heron City, Cinesa La Maquinista, Arenas de Barcelona Multicines, Aribau Multicines, Balmes Multicines, Bosque Multicines, Glorias Multicines, Gran Sarrià Multicines, Cine Yelmo Icària, Cine Yelmo Comedia, Renoir Floridablanca, Cines Girona, Cine Maldà.
Navigating a long list of titles can be time-consuming, so here are Catalan News' movie recommendations for the 2022 Festa del Cine in Barcelona.
The Final Game or '42 segundos' by Dani de la Orden and Àlex Murrull
The film delves into the lives of the 1990s Spanish water polo team members. It is mainly the story of two athletes training for the Barcelona 92 ​​Olympic Games: the Catalan Manel Estiarte, played by Álvaro Cervantes, and the Madrilenian Pedro García Aguado, played by Jaime Lorente.
The movie will be screened in Spanish at Yelmo Comedia, Arenas de Barcelona Multicines, Verdi Barcelona, Cinesa Diagonal, Glòries Multiplex Centre Comercial Les Glòries, and Balmes Multicines.
Model 77, by Alberto Rodríguez
This film takes place in Barcelona's infamous Model prison in 1977. Manuel, played by Spanish actor Miguel Herrán, faces a 20-year sentence that far exceeds the severity of the crime he has committed.
Behind bars he meets Pino, played by Javier Gutiérrez, and together they join a group of prisoners demanding amnesty. Modelo 77, which premiered at the San Sebastián Festival, touches on the topics of freedom, human rights, and the prison system during Spain's transition to democracy after dictator Franco's death.
Those interested in watching this film can catch a screening at Yelmo Comedia, Aribau Multicines, Cines Renoir Floridablanca, Cinemes Girona, Arenas de Barcelona Multicines, and Verdi Barcelona, where it's available with English subtitles.
Pacifiction, by Albert Serra
Catalan filmmaker Albert Serra presents this hilarious film that caught the public's attention at Cannes.
Set on the island of Tahiti, French Polynesia, it focuses on High Commissioner De Roller, a calculating man with good manners that is played by French actor Benoît Magimel.
This movie is available in French with Spanish subtitles at Verdi Barcelona, Balmes Multicines, Cinema Maldà, Verdi Barcelona, Cinema Maldà, Zumzeig Cinema.
Alcarràs, by Carla Simón
The most internationally-recognized Catalan film, Alcarràs, by Carla Simón, which continues to vie for an Oscar nomination, will be screened at most cinemas in Barcelona, including Aribau Multicines and Gran Sarrià Multicines in Catalan with subtitles in Spanish.
The movie is a tribute to rural life and it tells the story of the last fruit harvest that a family goes through on their farm where they have cultivated peaches for generations before they must leave the land after the owners decide to install solar panels.
The Catalan-language movie won the Golden Bear at the Berlinale International Film Festival in the German capital in February, the highest award at one of the world's most prestigious film festivals.
Have a listen to our Filling the Sink podcast episode for an in-depth analysis of the movie, its director and the current situation of Catalan cinema.
Argentina, 1985, by Santiago Miter
Inspired by the true story of Julio Strassera, Luis Moreno Ocampo and the legal team that dared to accuse the Argentine military dictatorship of Jorge Rafael Videla.
With performances from Ricardo Darín and Peter Lanzani, the film explores one of the tensest moments in Argentina's history and can be viewed at Verdi Barcelona
Don't worry darling, by Olivia Wilde
One of the most controversial films off-screen of the season after being presented at the Cannes Film Festival, the film tells the story of Alice and Jack, played by English actors Florence Pugh and Harry Styles, who will play a concert in Barcelona in March 2023.
The movie will be screened in English with subtitles in Spanish at Aribau Multicines, Cines Renoir Floridablanca, Cinemes Girona, Verdi Barcelona, and dubbed in Spanish at Arenas de Barcelona Multicines.