Beethoven's nine symphonies in five days at Palau de la Música concert hall
Sir John Eliot Gardiner and the Orchestre Révolutionnaire et Romantique kick off a week celebrating the 250th anniversary of the great German composer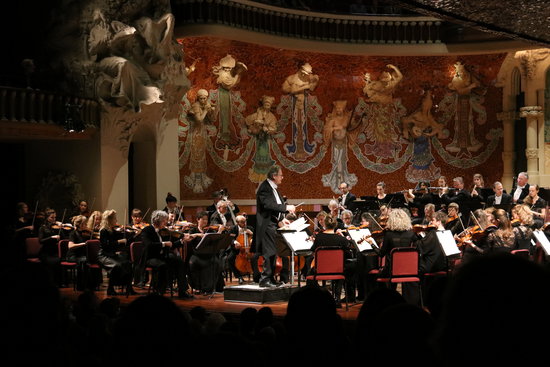 This year is the 250th anniversary of Ludwig van Beethoven, and the events to celebrate the great German composer's birth have already begun, with the Palau de la Música concert hall in Barcelona putting on all nine of his symphonies throughout the week.
The series began on Sunday, with English conductor Sir John Eliot Gardiner leading the Orchestre Révolutionnaire et Romantique in a rendition of Beethoven's Symphony No. 1, which was followed by performances of Symphony No. 2 and No. 3 on Monday.
Symphony No. 4 and No. 5 are scheduled for Tuesday, with Symphony No. 6 and No. 7 on Thursday. The final two symphonies, No. 8 and No. 9, will be performed on Friday, with the participation of the Palau's chamber choir, the Monteverdi Choir, and soloists soprano Lucy Crowe, contralto Jess Dandy, tenor Ed Lyon and bass Tareq Nazmi.
This week's concerts are part of the Palau's year-long celebration of Beethoven, with Eliot Gardiner one of the big draws. The English composer will also take charge of Symphony No. 6 and No. 7 on Thursday, with a tour planned that will go to the US and the UK.
Apart from concerts, the Barcelona concert hall is also offering related activities focusing on Beethoven, such as 'Let's talk about ... Symphonies no. 8 and 9 by Beethoven,' with Doctor of Humanities, musician and historian Carlos Calderón, on Friday.
As for Beethoven's symphonies, it is actually the second time that in recent times the Palau has put on all the works on consecutive days, as in 2017, Gustavo Dudamel and the Orquesta Sinfónica Simón Bolívar performed all of them over four days.