Barcelona Beer Festival changes location and dates for 2023
Celebration of local and international craft beer to be held in Fira Montjuïc in warm May weather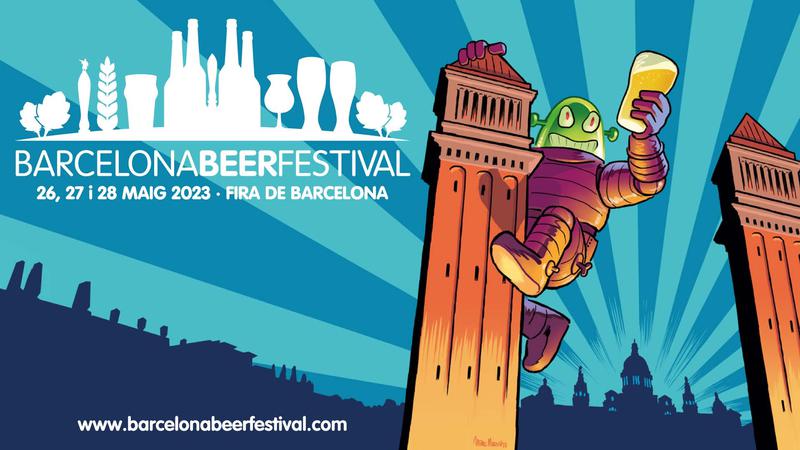 The Barcelona Beer Festival returns this year with a new look and feel. Catalonia's biggest celebration of craft beer has moved location and dates.
The 2023 edition of the event will be held in the Fira Montjuïc events center on May 26-28.
Previously, the Barcelona Beer Festival took place in La Farga, in L'Hospitalet, and usually in winter months.
The new location offers outdoor spaces to set up terraces, and the late May dates will likely mean sunshine and warm weather.
The poster for the event was launched this week and features a robot-beerlover climbing the Venetian Towers located very near to the Fira Montjuïc site in the style of King Kong.
As ever, hundreds of beers will be on offer at the festival, of a wide variety of different styles and flavors.
Tickets for the 2023 Barcelona Beer Festival are available from as little as €5 from the event's website.
Catalonia's craft beer industry
Catalonia's craft beer scene is booming. The industry has seen exponential growth in practically all metrics for over a decade, save for the slight bump due to the pandemic.
Across Catalonia, there are over 100 craft breweries, which make around 1,000 different beers. Before the pandemic hit, there were precisely 117 brewhouses, while the health crisis lowered this figure to 107.
2019 saw more than 5 million litres of craft brew produced in Catalonia. The arrival of the Covid-19 pandemic saw this drop to just over 3.5 million litres, but the long-term trend is clear, Catalonia is making and drinking more and more craft beer each year.
Listen to our podcast below, which Filling the Sink published in December 2021: