'Alcarràs' is the biggest Spanish box office hit of the year
Winner of the Golden Bear at Berlin Film Fest sells 300,000 cinema tickets in Spain, reaches Italian cinemas Thursday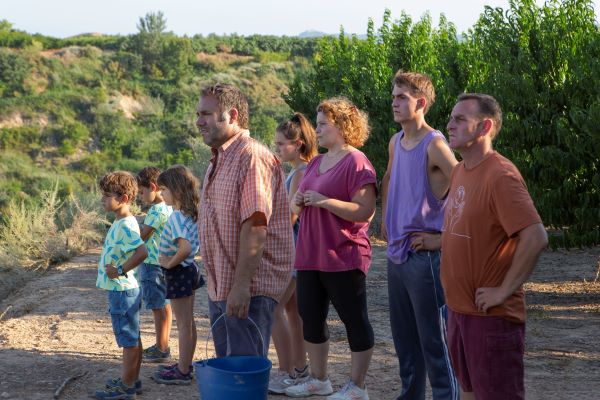 'Alcarràs' has already become the biggest Spanish box office hit in cinemas this year, just under a month after its release in theatres.
The winner of the Golden Bear award, the highest honor given at the Berlinale International Film Festival, sold almost 300,000 cinema tickets since its release on April 29, according to Comscore figures.
Directed by Carla Simón, the film is still number 1 at the box office in around 40 cinemas four weeks after its release.
From Friday, around 100 theatres across the country will screen the movie, as ten more will join the 90 where it is already available.
Within the first week, 'Alcarràs' grossed €1.06 million at box offices – and after nearly a month, it has surpassed €1.5 million.
In celebration of the successful figures, the film's actors and director have published a video thanking the public for their support.
The news of the 2022 Golden Bear winner's success in Spain coincides with the film's release in Italy on Thursday.
One of its producers, Kino Produzioni, told Catalan News that 90 cinemas across the Mediterranean country will screen 'Alcarràs,' which will be available "in big and small cities."
Although the producer has avoided estimating the number of spectators there will be in Italy, they are "convinced that the strength of the film will attract many."
'Alcarràs' in UK, US, France and Germany
Kino Produzioni also explained that Simón's work will be in cinemas in France and Germany after the summer and in the US in October.
Another producer, Avalon, revealed a few weeks ago that the movie will reach American and British cinemas this autumn.
Streaming platform MUBI, which has bought the screening rights in several countries, also confirmed that it will be available for its users in the US, the UK, Ireland, Latin America, Turkey, India, and Malaysia , but the dates are yet to be confirmed.
'Alcarràs' tells the story of the last fruit harvest that a family goes through on their farm before they must leave the land after the owners decide to install solar panels. It's a tribute to rural life, family farms, and respectful agriculture, and made history as the first-ever Catalan film to take the biggest award at one of the most prestigious international film festivals in the world in Berlin in February.
'Alcarràs' is Carla Simón's second film, after 'Estiu 1993' (Summer 1993) – in both productions, her personal story is obvious.
Have a listen to our Filling the Sink podcast in order to get an in-depth analysis of the movie, its director and the current situation of Catalan cinema.