'Alcarràs' director to deliver Barcelona's 2022 La Mercè festival opening speech
Barcelona-based Basque illustrator David de las Heras designs promotional poster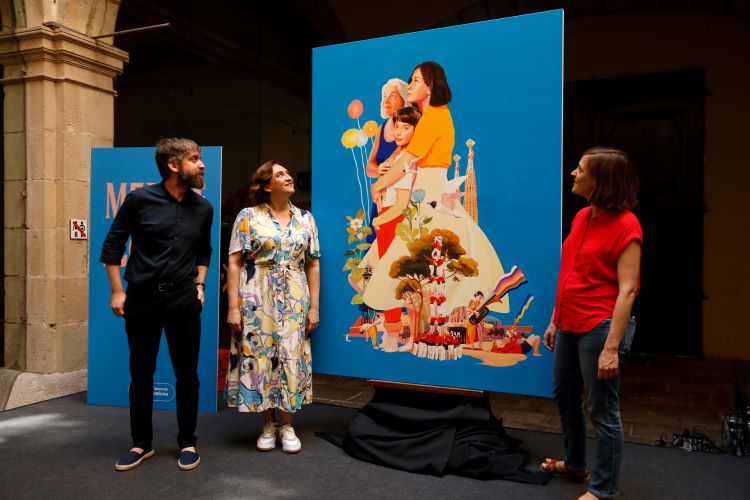 La Mercè, the Catalan capital's annual celebration of popular culture and music, will take place this year from September 23 to 26.
And while much of this year's program is yet to be revealed, on Thursday eager Barcelona residents were given a small taster of what to expect come September.
For one, Carla Simón, the mastermind behind the hit film 'Summer 1993' and, more recently, Berlin Golden Bear winner 'Alcarràs', will be in charge of delivering the opening speech kicking off this year's La Mercè festivities in Barcelona.
The 2022 promotional poster was also unveiled. Designed by Barcelona-based Basque illustrator David de las Heras, it depicts three generations of Barcelona residents - a grandmother alongside her daughter and granddaughter - surrounded by the Sagrada Família, human towers, and musicians.
A taste of Italy
As this year's guest city, there will be plenty of Rome-themed activities as well as Italian artists and musicians putting on shows for La Mercè.
These include the Italian Spellbound Contemporany Ballet company dancing to music by Alessandro Mannarino, Vinicio Capossela, Rachele Andrioli, and Paolo Angeli as well as an homage to Italian singer Mina.
Film enthusiasts will also be able to watch Federico Fellini's 'Roma' and Paolo Sorrentino's 'La grande belleza' in outdoor cinemas, while the Barcelona History Museum will allow the public to visit ruins dating back to Barcino, as the city was known in Roman times.
More activity locations
After a pandemic-related hiatus limiting activities over the past two years, La Mercè 2022 will once again take to some of its usual locations, such as Damm's 'Mediterràniament' stage at the Barceloneta beach or Avinguda Maria Cristina avenue and Rambla del Raval.
But it will also see events hosted in new sites in Zona Universitària, Parc de l'Aqüeducte, Ciutat Meridiana and Ronda de Sant Antoni.