A lit up cement mixer will inaugurate this year's Llum BCN
Poblenou's festival of lights to open longer hours between February 4-6 and will feature several international artists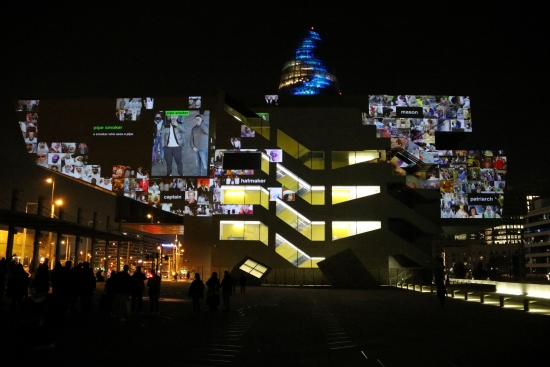 Llum BCN, the city's festival of lights, returns February 4-6 to celebrate its 11th edition. The event will open with a show designed by Catalan artist Antoni Miralda. On the first night, a lit up cement mixer followed by three Harley Davidson motorcycles will route the neighborhood of Poblenou, where the festival takes place.
This year, the festival returns to its regular February dates after organizers postponed the 2021 edition to November due to the coronavirus pandemic. The schedule will also be lengthened this year, letting visitors enjoy the shows from 6 pm, as opposed to 7 pm in previous years, and will finish at midnight.
Including Miralda's inaugural show "La Formigonera del PobleNew," there will be 13 different artistic proposals, from various illuminated streets, squares, building façades, and other public spaces. Llum BCN also features a "Xocolata amb llum" show this year, "where light will be used to melt chocolate and members of the public will be invited to taste it," the official website reads.
On Saturday and Sunday, after going through Poble Nou's streets, the illuminated cement mixer will be installed in an empty lot representing the many construction sites in the neighborhood.
"We wanted to create a dialogue and a connection, as construction works [that people see every day] are a part of the neighborhood," artist Antoni Miralda explained.
School designs, international and local artists
As in previous editions, there will be artistic proposals created by students from 16 different design, illumination, and art schools in Barcelona.
One of the most significant light shows will be the one designed by US artist Trevor Paglen at Barcelona's Disseny Hub, a museum dedicated to design.
Some other artistic proposals will be led by Catalan artists, such as Domestic Data Streamer, Cabosanroque, Toni Arola, or Mariona Benedito next to internationally renowned artists such as German Ulf Langheinrich and Russian Tundra.