A joint exhibition at Barcelona's CaixaForum and MACBA to display vast collections of contemporary art
MACBA and CaixaForum unveiled their first joint exhibit on Thursday, which shows one of the most important contemporary art collections in southern Europe. The project is called 'Art dos punts. Barcelona viu l'art contemporani' (Art in two sites. Barcelona is moved by contemporary art) and contains a selection of 400 works by 125 artists with a focus on modern and post-modern art. The collections of both institutions contain up to 6,000 pieces. The Director of MACBA, Bartomeu Marí, explained that the aim of the project is to create a story "that challenges recent history and puts us in a better position to understand the contemporary world."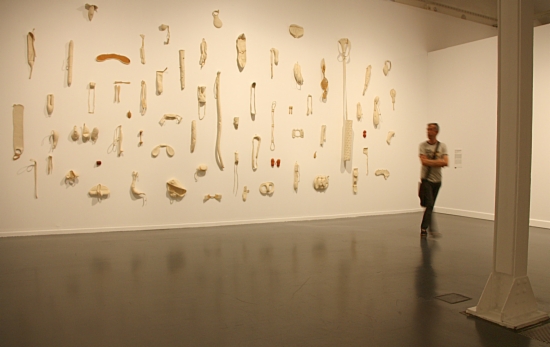 Barcelona (ACN).- MACBA and CaixaForum unveiled on Thursday their first joint exhibition, which will be on show at these two Barcelona museums. The exhibition contains 400 works of contemporary art by 125 artists from all over the world. This collaboration between the two museums is called 'Art dos punts. Barcelona viu l'art contemporani' (Art in two sites. Barcelona is moved by contemporary art). The collections of contemporary art of the two museums are composed of a total of 6,000 works. Altogether they represent one of the main collections of contemporary art in southern Europe. To raise awareness of this vast collection, and to highlight the collaboration between the two institutions, a first joint exhibition was organised. The project aims to create a story "that challenges recent history and puts us in a better position to understand the contemporary world", explained Bartolomeu Marí, Director of MACBA.
MACBA will focus on modern art while the exhibit at CaixaForum will be concentrated on work that represents the generation of post-modern artists. Joseph Beuys, John Bock, Joan Brossa, Eduardo Chillida, Pep Duran, Paul Klee, Ignasi Aballí, Muntadas, Jannis Kounellis, Jenny Holzer and Richard Hamilton are among the 125 artists represented.
Marí stated that the way in which the exhibition is presented will extend the capabilities of the MACBA, which does not wish to be merely a space to display art, rather, "it should shape History." According to Marí, History is shaped by "taking into account the recent past, while converging with the present and then imagining and exploring the future." The MACBA Director believes that instead of being an Encyclopaedic museum which aims to provide the visitors with all the answers, the museum's task is to ask "appropriate questions". Then, visitors should have to work to find the answers to these questions posed by pieces of art.
The exhibition investigates whether Barcelona was in fact previously a modern city when it didn't have this avant-guard art culture that is so prevalent today. The curator of the project, Nimfa Bisbe, noted how the rise of the contemporary art scene in Barcelona coincided with the city's urban renewal during the 1980s and 1990s, highlighted by the 1992 Olympic Games. Bisbe emphasises the role of La Caixa – which owns and runs the CaixaForum museum – in this context as "it was one of the first institutions that began to exhibit contemporary art."