8th BCN Clàssics festival highlights include Hilary Hahn, Ginandrea Noseda, and Hèléne Grimaud
23/24 season to consist of eight large concerts and four smaller ones at Palau de la Música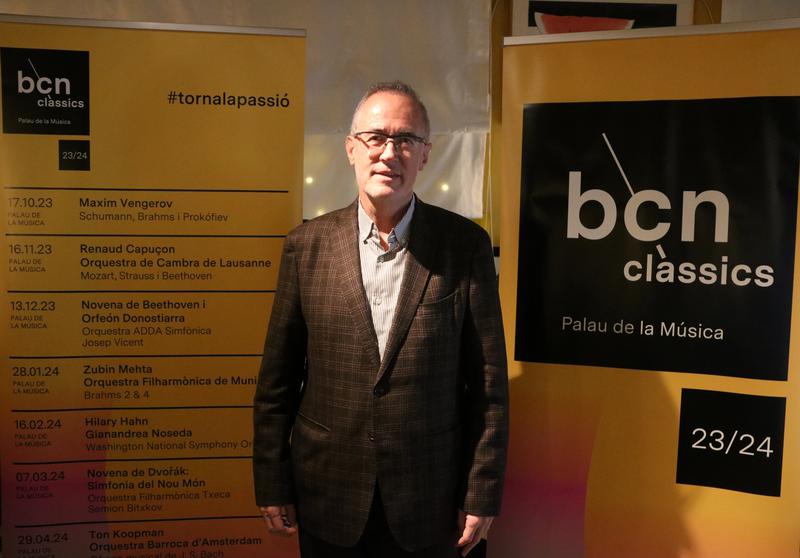 The 8th edition of the Catalan capital's BCN Clàssics classical music festival will see eight large concerts and four smaller ones take place at the Palau de la Música concert hall from October 2023 to May 2024.
Next season's programming, which was presented in Barcelona this Friday, will see concerts taking place once a month and includes highlights such as Hilary Hahn, Ginandrea Noseda, and Josep Vicent, among others.
It will also see a number of musical acts return to the city for the first time in years: the Washington National Symphony Orchestra, which last played in Barcelona 42 years ago; violinist Maxim Vengerov will be coming back almost three decades after his last performance here; and pianist Hélène Grimaud, who was last here 13 years ago.
A concert a month
The Soviet-born Israeli musician Maxim Vengerov will be in charge of kicking off the 2023-2024 season by playing Schumann, Brahms, and Prokofiev on October 17.
Renaud Capuçon and the Lausanne Chamber Orchestra will then play Mozart, Strauss, and Beethoven on November 16.
In December, Josep Vicent's ADDA Symphony Orchestra and the Orfeón Donostiarra concert choir will perform Beethoven's ninth symphony.
January will see the Munich Philharmonic Orchestra, directed by Zubin Mehta, play Brahms' second and fourth symphonies.
Violinist Hilary Hahn will perform compositions by Carlos Simón, Erich Wolfgang Korngold, and Dmitri Shostakovich alongside the Washington National Symphony Orchestra, directed by Gianandrea Noseda, on February 16.
On March 7, the Czech Philharmonic Orchestra, directed by Semyon Bychkov, will play Antonín Dvořák's ninth symphony.
The Amsterdam Baroque Orchestra will be playing Bach's suite no. 2 on April 29, and lastly, French pianist Hélène Grimaud will perform a selection of Beethoven, Brahms, and Bach and Busoni on May 27.
Season tickets begin at €192, while a five-concert pass starts at €122 and three-concert passes are on sale from €85. Tickets can also be purchased for individual concerts from around €30 to €150.